With most sneaker stores adopting anti-botting algorithms, copping sneakers and other high-end items is more difficult than ever before. As it is currently, only adaptable and innovative botting software programs can guarantee sneakerheads, resellers, and beginners considerable success when it comes to copping sneakers. Zeno AIO is one such botting tool.
What's Zeno AIO?
Zeno is a robust and efficient AIO automated tool that allows users to check out on-demand and limited edition items such as sneakers, gaming consoles, and apparel from online stores.
The sneaker bot features a sleek and user-friendly command-line interface that allows for seamless botting.
The bot is built with end-user success in mind. As such, Zeno's lightning-fast check-out speeds guarantee users the best chance of success while copping.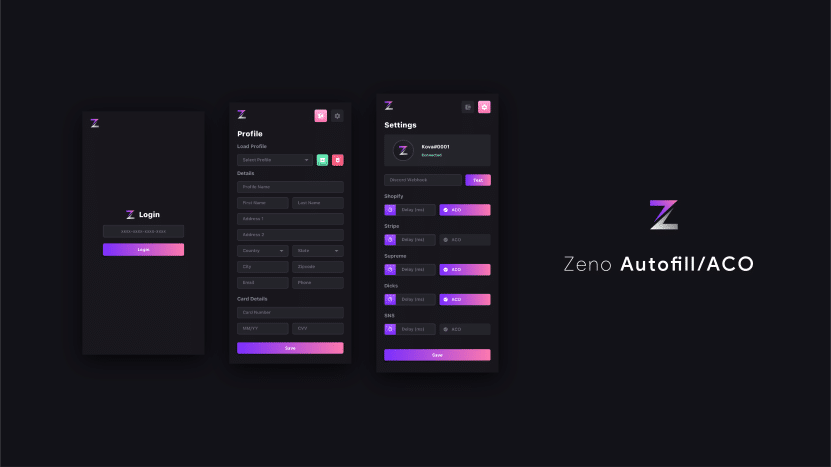 The shoe bot is super adaptable.
It comes loaded with proprietary functions and features that allow it to stay under the radar of anti-botting algorithms on most sneaker sites. That way, the bot is able to check out your dream hype items even where other bots are failing.
Compared to other botting software, Zeno AIO is affordably priced. It goes for an initial cost of $39.99 only. After the lapse of the subscription period, users pay a monthly recurring charge of $19.99.
What's more, the sneaker bot packs an extensive collection of custom modules that make for easy creation of tasks, profiles, and proxies for a successful botting experience.
How it works
How can you use Zeno to cop sneakers? Very simple. Follow these steps to get started with this shoe bot.
The first thing you need to do is to log in to the discord.
Next, activate the dashboard using the bot key provided during your subscription.
After activating the Zeno dashboard, it's time to get your account ready for copping sneakers. To do that, let's start by first setting up tasks.
Make use of the Task Creator function to set up tasks quickly. You'll need quite a number of tasks, especially if you intend to check out multiple items across different retail outlets.
Next, it's time to create your profiles. Zeno AIO offers you two options to do your profiles. You may choose to create them all by yourself or import them from reputable profile managers.
Once you're done setting up your profiles, the last thing on your to-do list is proxy groups. Like profiles, you may choose to import proxies from elsewhere straight into your dashboard or create new ones yourself.
With the proxies all done, go ahead and set the bot to action. Let it check out all your favorite limited-edition sneakers or any other on-demand items while you sit back and relax.
Zeno AIO features
Here are some of the features that make Zeno the go-to bot for expert resellers, sneakerheads, and even beginners:
Zero AIO is based on the command line interface, which requires one to type in commands to execute tasks, as well as to create proxies and profiles. Moreover, the interface is sleek and simple, thus guaranteeing users a seamless sneaker copping experience.
The shoe bot supports an array of custom modules, making it easy for users to set up their accounts and start botting in no time.
The bot is built with speed in mind to guarantee users super-fast checkouts. This is especially important during hype item drops.
Supported operating systems
Currently, the Zeno AIO bot is only compatible with two operating systems; Windows and macOS. Versions for other operating systems are yet to be released.
The bot key goes for an initial charge of $39.99 and a recurring renewal cost of $19.99 monthly after the expiration date.
The sneaker bot features a restock mode that sends users alerts whenever a limited-edition sneaker is due to be dropped. That way, you're sure never to miss product restocks or releases even when you're not able to access your computer.
Social networks and email
In order to keep up to date on the latest releases and restocks of your favorite footwear and apparel, be sure to keep an eye on Zeno AIO Twitter. Alternatively, you can contact them via their email: [email protected].
Get started with Zeno AIO today
If you want to boost the odds of success when copping hype products such as limited-edition sneakers, apparel, or even gaming consoles, there's no better way to do it than with the Zeno AIO sneaker bot.