Enjoy unmatched sneaker copping experience with reliable high-performance Nebulabots. These premium automation tools are super reliable and pack a powerful set of features that make them one of botting industry's finest.
What are Nebulabots?
Nebulabots are software programs used to purchase sneakers from particular online retail outlets. They do that by automating product addition to cart and checkout processes. That way, you outsmart site security checks and bypass queues to buy on-demand sneakers in no time.
The automation tool has a very intuitive Omega UI featuring both light & dark mode options and a navigation bar. The Nebula Omega Dashboard is replete with awesome features including Analytics, tasks, profiles, proxies, calendar, and harvesters.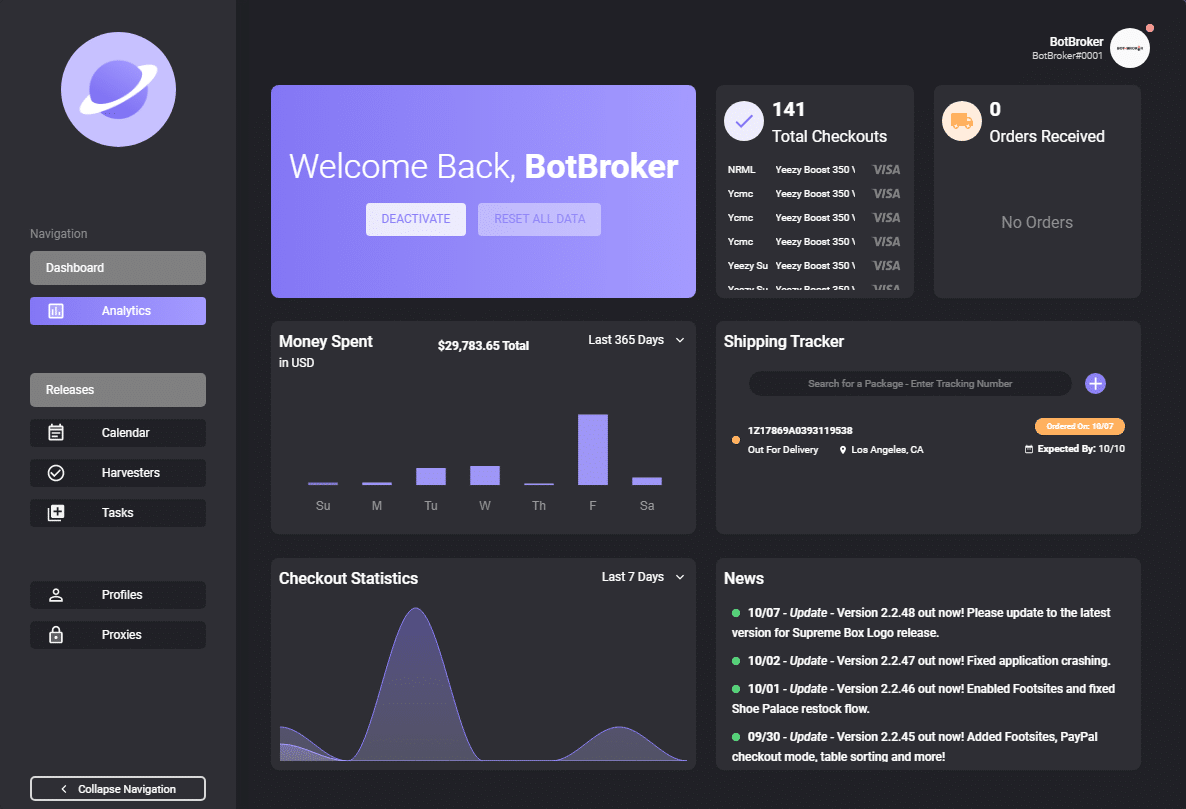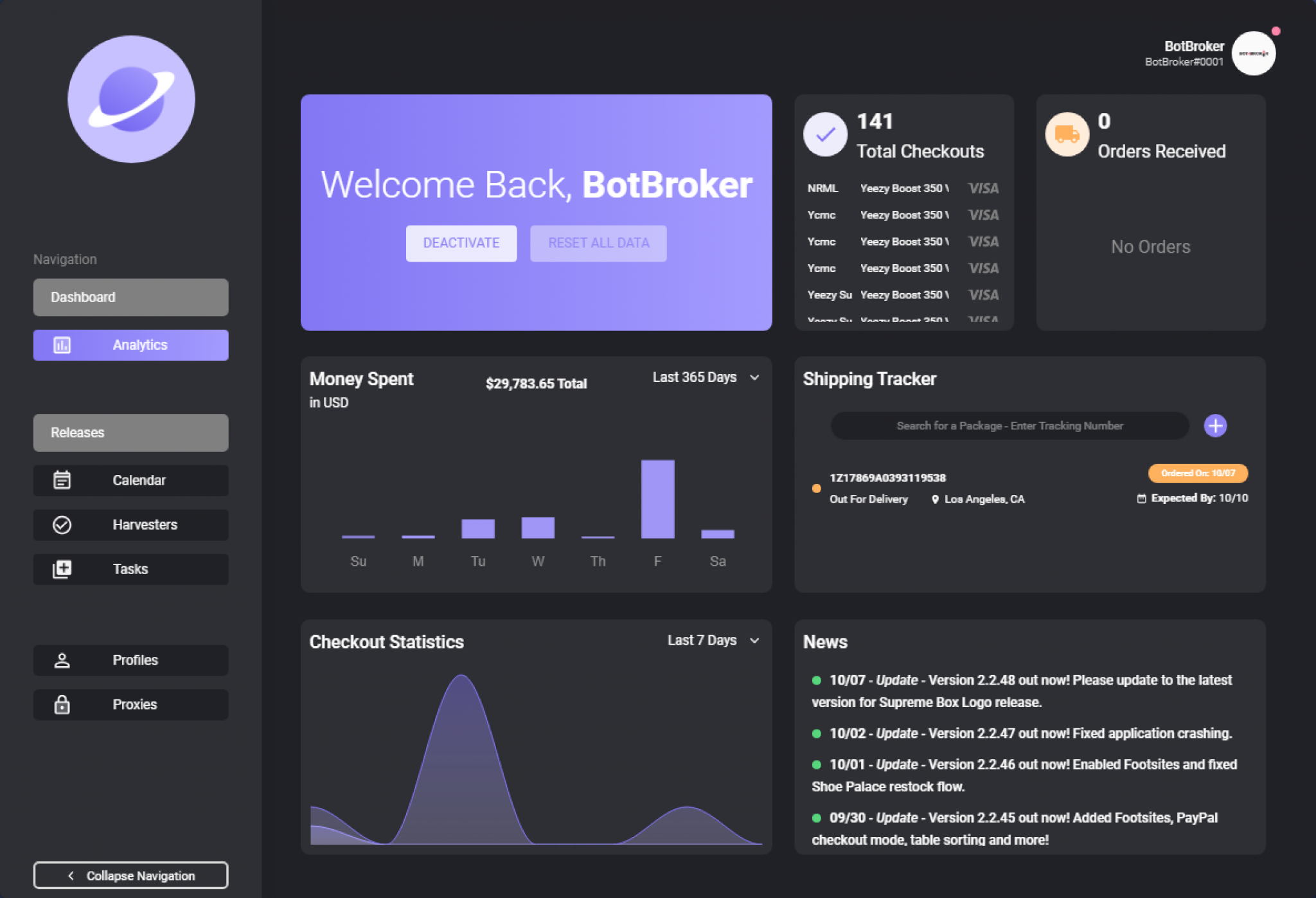 Nebula Omega bot comes with in-built modules for most popular sneaker retail outlets including Shopify, Supreme, Footsites, Yeezy supply, Pokémon Center, and Walmart. That gives you a range of online stores to shop on upon the release of new on-demand sneaker editions or hype clothing. Moreover, the bots have an Import/Export function that allows you to import or export profiles without having to create new ones every time.
Something else to note is that Nebulabots are only available for Windows OS. Versions for other operating systems are coming soon.
How they work
There's so much talk about Nebulabots and how effective they are at copping limited edition sneakers. But how exactly do they work? Let's find out.
To get started with Nebulabots, first, you need to install Nebula Omega on your Windows PC. To do that, simply login to the Discord Server and click on the #download channel to download the latest setup version then install it.
After installation, go to https://dash.nebulabots.com/ and log in with the credential for your Discord account to access your product key. Next up, double click on the exe file then enter the license key on the popup screen.
The Nebulabots Dashboard account access window will appear. At the bottom of that window, click on Authorize to access the main dashboard where you'll find your key which you'll then use to sign in and activate your Nebula Omega bot.
With the setup process complete, the step is setting up your proxies and profiles. You can choose to import profiles from leading profile managers if you don't want to create them by yourself.
After setting up your proxies and profiles, go ahead and create tasks and then let the bot handle the rest.
The Nebula Omega sneaker bot comes with 3 harvesters including captcha harvesters, Captcha solvers, and AYCD Autosolve. The trio is built to intelligently solve any captchas on sneaker sites for a quick and easy checkout.
 Features of Nebulabots
Supports a number of top sneaker retailers including Shopify, Supreme, Footsites, Yeezy supply, Pokémon Center, and Walmart.
Smart task pairing- supports task grouping for concurrent task execution.
Smart analytics gives you a detailed breakdown of your sneaker shopping trends and history.
The Release Calendar helps you track new releases of on-demand sneakers.
The Milestone feature allows you to set spending limits and profit goals.
The Monitor Pools function supports convenient linking to other users without necessarily using proxies.
Captcha harvesters and AYCD auto solve features automatically solve the captchas on sneaker sites.
Supports one checkout per profile on the available tasks
The Global task Start/Stop feature allows you to start or stop all running tasks regardless of the task group.
Get started with Nebulabots today!
The Nebula Omega bot gives you an opportunity to beat the competition and buy limited edition sneakers whenever they are released. To stay updated on the latest releases and restocks, you may want to check their social networks: Nebulabots Twitter & Nebulabots Instagram.