Do you want a proxy provider that allows geo-targeting? If you want one, you might choose Ignify proxies that geo-targets around 129 regions.
Ignify Proxies – an Overview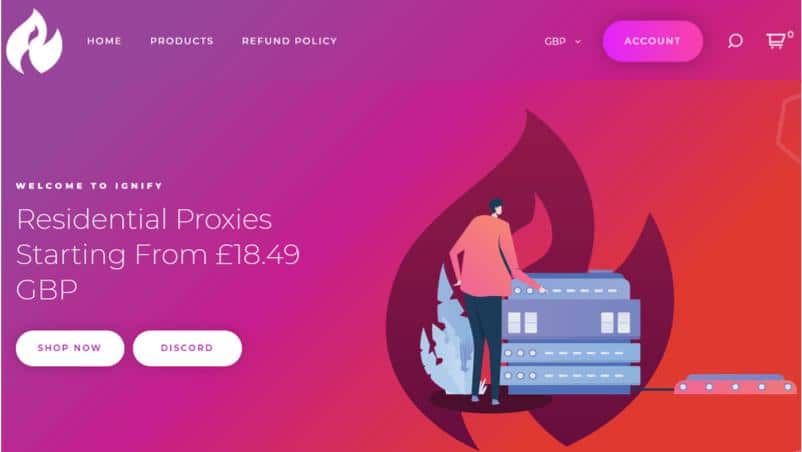 Geo-targeting means you can choose the country where you want the proxy network to work. If you geo-target a place close to a sneaker company, the chances are that you will experience a stable and fast connection rate.
Apart from the geo-target aspect, the following are other properties of Ignify Proxies.
Ignify Proxies' products
Ignfiy proxies have residential proxies with a higher IP pool. The good thing with residential proxies is that they change to fresh IPs. However, the company may not refund your cash or rotate an IP if you it.
Ignify Proxies charges their plan per bandwidth, and these plans consist of residential proxy data 1 and residential proxy data 2. Residential proxy data 1 has five packages that vary in terms of the usage period. That period consists of a plan for 120 days, 30 days, 60 days, 90 days, and a top-up offer. It would help to choose a 120 days package because it's economical considering that the 30 days plan is only7doallars shy of 120 days price.
If at some stage you feel a need to top up a package you bought earlier, Ignify Proxies provides a residential proxy data top-up of around $24
Not to forget, Ignify proxies offers residential proxy data plan pool 2. This data plan is the cheapest because it cost around six dollars.
Unlike most proxy providers, who rate their proxies only in dollars, Ignify proxies provide a selection of currencies like USD, GBP, EUR, and CNY.
Has speedy networks
Since sneaker sites have limited editions, you need a fast proxy network that enables you to order multiple pairs before they get finished. On that note, Ignify proxies possess a blazing network of about 250ms that places you in a pole cart's position.
Instant delivery
Ignify proxies takes a short time in activating your account and responding to your proxy package request. When you submit orders for this proxy, it takes an hour for the Ignify proxies to meet them. If that time surpasses, be assured that Ignify proxies will honor your requests.
Issues refund
Ignify proxies extend a refund policy when your package has some faults. All you have to do is communicate with the provider's support team, and they shall refund your cash if their proxy does not work. However, they cannot refund your cash if you downloaded or subscribed to their product.
Website compatibility
Ignfiy proxies seem to work with every sneaker website without problems. That means their proxy supports sneaker AIO bots that work with every website. With that, you are assured of a secure network that will be unlikely to be banned.
 Has a discord support
Discord is the new wave that enables live chats and easy communication with clients. Ignifys proxies support the discord platform, where you can contact their customer support if you have an issue with their services.