Choosing the right botting software for you can be a little tricky, considering the massive number of sneaker bots out there. Even though all copping tools support proxy groups, task creation, and profile creation, there's a significant difference among the bots as far as these capabilities go.
Aurora AIO is among the most popular shoe bots in the industry. It is built to guarantee botters a high success rate when copping sneakers and other on-demand products. With that being said, let's dig deeper to discover more about this premium sneaker bot.
What's Aurora AIO?
Aurora is an All-in-One collectible and sneaker bot that automates checkouts from online retail outlets. The sneaker bot supports fast checkouts from an extensive list of online retail stores in the US and Canada.
Currently, the Aurora AIO shoe bot can be used to cop limited-edition sneakers and other hype items from sites such as NewBalance, BestBuy, Walmart, Supreme, Footsites, and many more.
Aurora AIO features a sleek and intuitive user interface that makes it super easy for users to manage multiple tasks simultaneously.
Moreover, you can track your shopping trends and success patterns all from the Aurora dashboard. Besides checking out sneakers, the shoe bot can also be used to cop cards, consoles, streetwear, gaming consoles, among other hype items.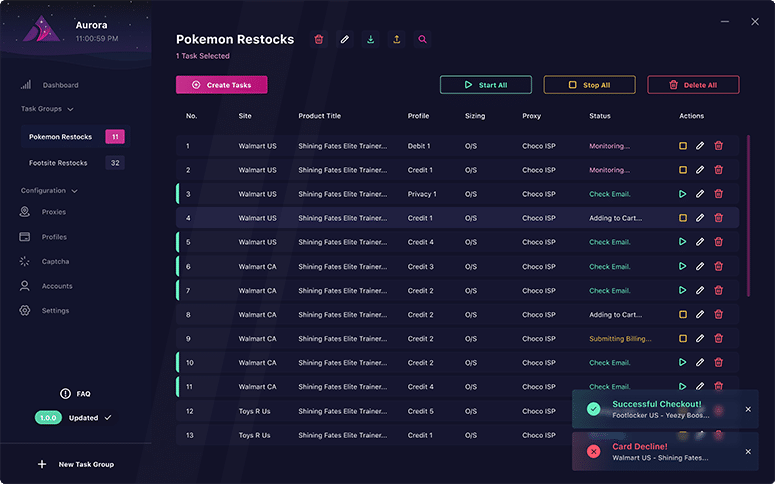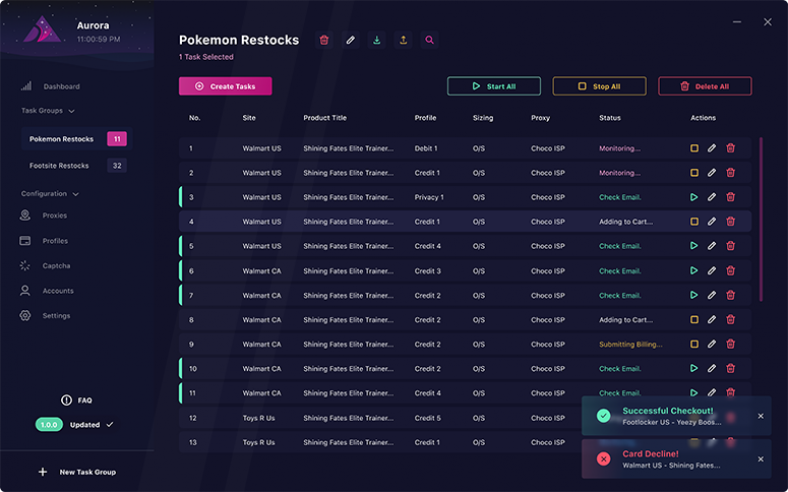 Compared to other high-end sneaker bots, Aurora is very affordably priced. Currently, it goes for only $350, inclusive of one month of free updates. At the lapse of the subscription period, users pay a $50 monthly recurring charge.
The tool is cross-platform. Meaning it is compatible with Windows and macOS. Versions for other operating systems are under development and will be released as soon as they're ready.
What's more, Aurora users are certain never to miss a drop of those limited edition sneakers, thanks to the tool's webhook support allowing for real-time notification upon release or restock of on-demand items.
How it works
Organizing and optimizing the Aurora AIO setup for any drop is pretty easy. Follow these quick steps to start copping sneakers in no time.
Login to the Aurora AIO discord using the credentials sent to you via email during sign-up.
Once on the discord, go ahead and access the dashboard using the same logins for the discord.
Upon accessing the dashboard, start by setting up tasks with the help of the available task creation features and functions. Tasks are the details that appertain to the products, such as limited-edition sneakers, cards, apparel, among other products that you wish to buy from online stores.
Next up, you'll need to set up profiles that the bot will use during checkouts. Profiles are basically addresses and related shipping information. And like most sneaker bots, Aurora AIO provides you the option to create the profiles yourself or simply import custom profiles from industry profile managers.
After profiles, next up, you need to set up your proxies. The bot needs proxy groups to make the product checkout seamless and unsuspicious. Essentially proxies make it easy to check out multiple products all at the same time. And like profiles, Aurora allows you to do the proxy groups by yourself or import proxies from elsewhere.
With tasks, proxies, and profiles all set, you're ready to start copping those limited edition sneakers. You can go ahead and set the bot to start checking out the selected hype items.
Aurora AIO Features
The sneaker bot has a number of awesome features. Below are some of them:
The shoe bot is capable of executing thousands of tasks at impressive speeds while maintaining top performance. Checking out multiple items from different sneaker stores simultaneously has never been easier.
Cross-platform functionality
Aurora, like most sneaker bots, supports both Mac and Windows operating systems. If you're on a different OS, consider switching to either of the two or simply drop them a message via email or on Twitter.
The feature ensures you won't miss a drop of those coveted on-demand items. Upon the release or restock of any product, you'll be notified immediately.
The bot is compatible with an extensive list of sites. Some of these include BestBuy, NewBalance, Walmart, Supreme, Footsites, among others. You have a whole list of sites to target when copping sneakers.
Currently, the Aurora AIO sneaker bot costs $350, inclusive of 1 month of free updates. At the end of the subscription period, you'll pay a monthly recurring fee of $50. Note that bot keys will be terminated within 7 days of expiration unless the user renews their subscription.
Social networks and email
Stay in the loop with the latest updates on drops of the latest product releases and restocks by checking their social networks: Aurora Twitter & Aurora Instagram. For other concerns, queries or suggestions, drop them a message via email: [email protected].
Get started with Aurora AIO today
If you're looking for a botting software that's not only easy to use but also promises the highest success rate when it comes to copping sneakers, apparel, gaming consoles, among other high-demand items from online retail outlets, choose Aurora AIO today.