Wrath AIO is one of the new sneaker bots in the market with support for Supreme and Shopify stores. This both come with a modern UI that's not only beautiful but also user-friendly even for beginners.
What is Wrath AIO?
Wrath AIO is a sneaker copping bot that can be used for purchasing limited-edition high on-demand sneakers. With Wrath AIO, shopping for hyped items becomes a lot easier. Submit your billing/shipping details, enter item details, and get a task to start – it is that easy. One thing you'll come to like about this bot is that it comes with a lot of features that make it powerful.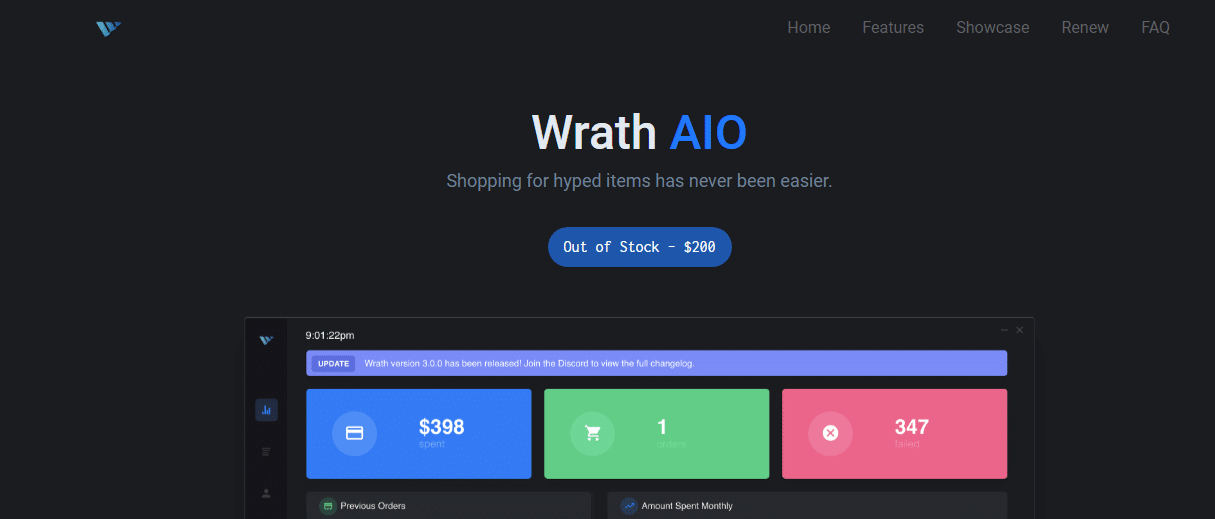 When you intend to cop sneakers using bots, you have to worry about getting banned because it is against the terms and conditions of most online stores. However, with Wrath AIO, you do not have to worry as it has been developed in such a way that it bypasses the checks of the sites it supports and appears to then as human. This had kept them in the game.
How Does It Work?
Wrath AIO automates your actions on Shopify and Supreme sites and sends requests to them on your behave. It does this with the help of its backend which is the code layer you cannot see. However, before it could function, you have to command it using its user interface. To learn how to make use of this bot, I will advise you watch the video featured below.
Wrath AIO Features
This bot is not just a script written by a kiddy. It is a full-fledged application developed by a team of experienced bot developers. The bot has been packed with a lot of features. These features are the reason the bot have been successful since its first launch. Some of these features are discussed below.
Multi-Task Support
Wrath AIO is multithreaded. What this means is that it can carry out a good number of task at ones. For the uninitiated, a task in sneaker bots means a copping event. If you configure the bot to cop a sneaker for you, what is created is known as a task. For Wrath AIO, you can create hundreds of task, and if need be, they will all run concurrently. Interestingly, the tasks will all run fast, and the activity of one will not affect that of another.
Captcha Solver
Captcha is one of the tools sneaker sites use against bots. It can waste time, and before you know it, you will lose out. Because of this, Wrath AIO comes with a captcha harvester that makes solving captchas easy and fast.
Shopify Queue Bypass
Shopify stores make use of a queue system that can be randomized and decide who gets a pair and who doesn't. This makes the speed of a bot useless since first come is not always first to be served. As a way of countering Shopify queue system, Wrath AIO does not even get itself in the queue – it bypasses it completely.
Pricing
Wrath AIO is a subscription-based model. For the license, you are to pay $200; then, after every 6 months, you are to pay $50 for renewal.
Join the Wrath AIO Family
Wrath AIO has proven to be one of the best bots for Supreme and Shopify sites. To start using it, visit the Wrath AIO website and make payment.