The demand for limited edition sneakers has been on a steady rise over the last decade, and so are the number of botting software. Even with the soaring numbers, particular shoe bots continue to dominate the scene. The Trickle bot is one such sneaker bot that's so popular among sneakerheads, resellers, and hype beasts. From its simple and intuitive user interface to the high sneaker copping success rate, this bot is an embodiment of superiority and unbeatable performance in the botting world.
What's Trickle bot?
Trickle bot is a command-line-based shoe bot that automates checkouts from online sneaker stores. Meaning, the software not only makes it easy to buy hype items but also hastens the process by overriding queues and intelligently solving captchas.
With online sneaker stores adopting new anti-bot technologies, only the best software can fool their state-of-the-art algorithms to complete checkouts successfully. Trickle features a powerful proprietary anti-bot protection function that allows the shoe bot to quickly adapt to new changes much faster, thereby guaranteeing users the best experience while shopping for limited edition sneakers.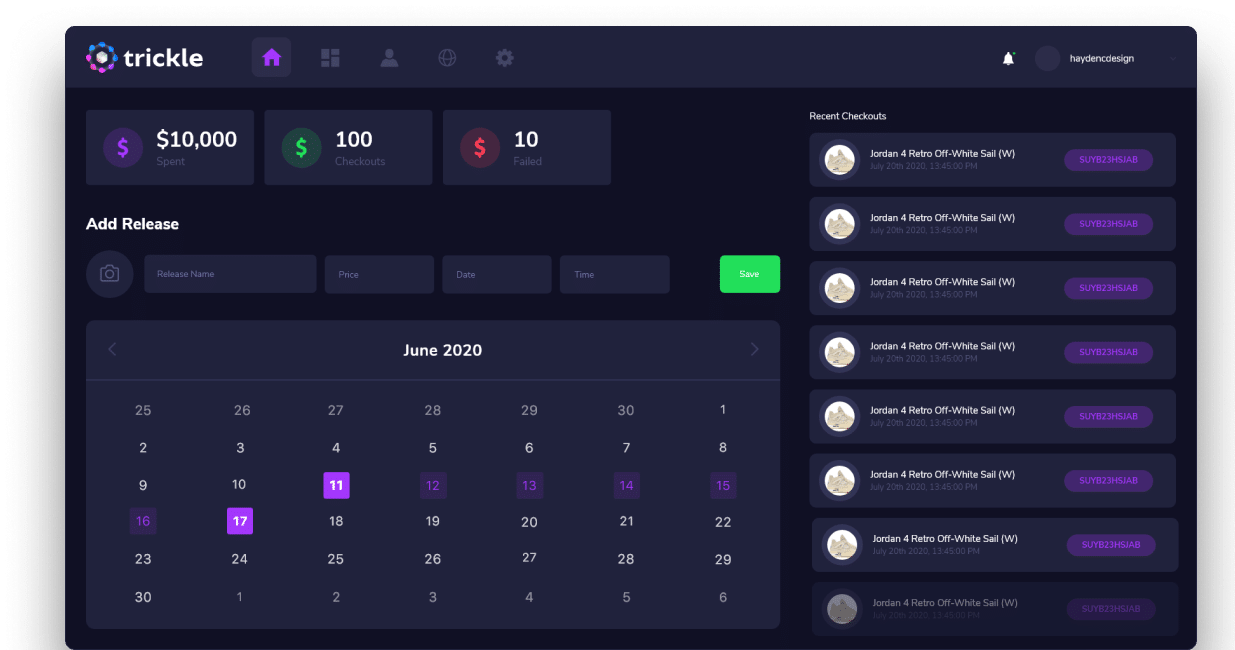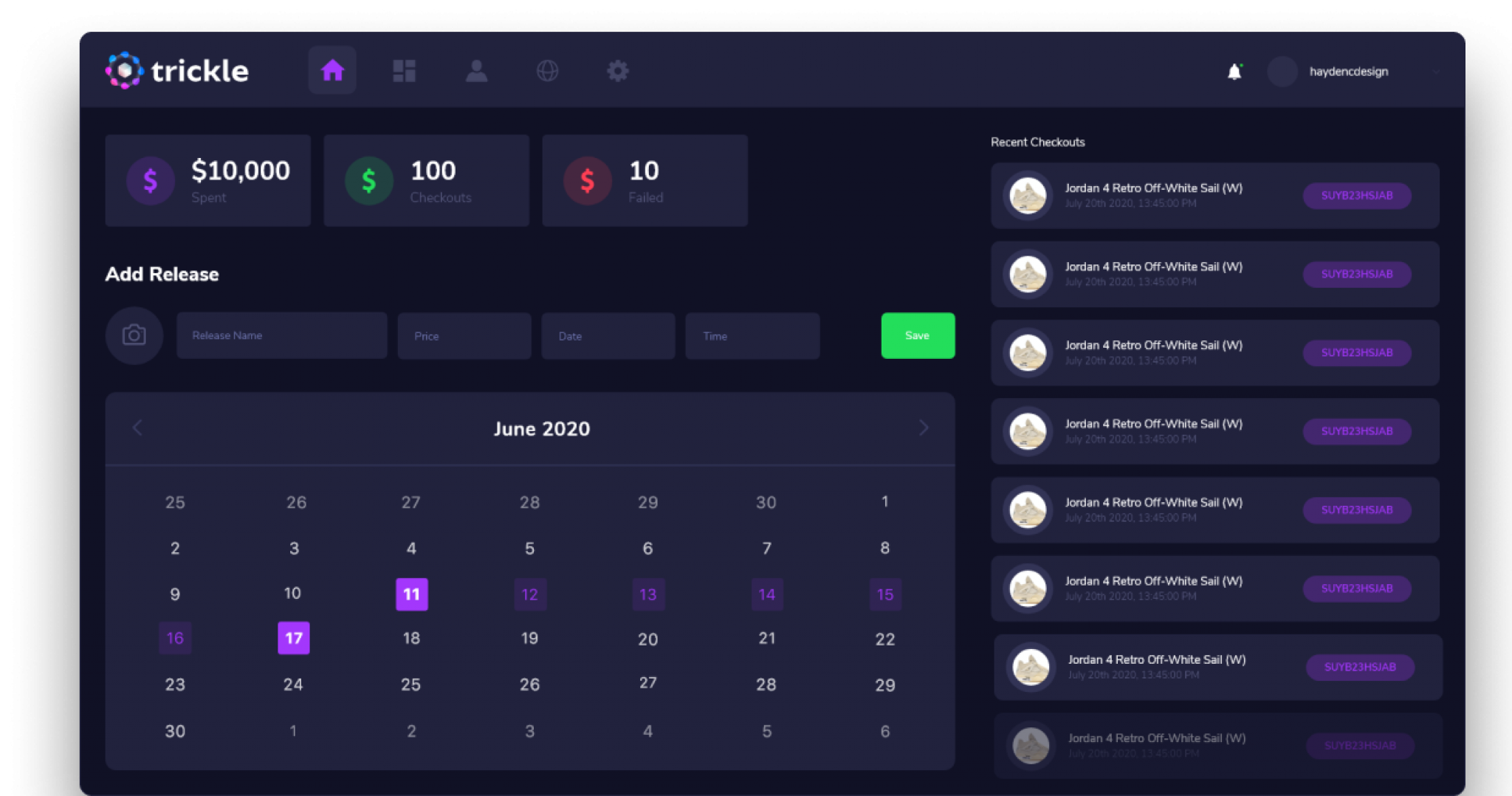 Most of the top-level sneaker bots only allow for a fixed number of tasks at a time. However, not Trickle. This shoe bot supports an unlimited number of tasks. Meaning, you can check out different sneakers all at the same time.
Then there's the restock mode which keeps users updated on the latest releases and restocks of limited edition sneakers. You'll never miss a drop of those coveted sneaker and apparel brands ever!
The sneaker bot is compatible with a number of shoe sites. Some of these include Footlocker, Eastbay, Champs Sports, FootAction USA, YeezySupply, etc. You have a wide range of sites to target whenever an edition is dropped.
Something else worth mentioning is that the bot is backed by a very professional support team. Whenever you have any queries, simply drop them a message via the discord server, and you'll get help in a matter of seconds.
How it works
Getting started with Trickle is very easy. Follow these steps to begin copping sneakers in no time:
First, you need to log in to the discord using the credentials sent to you via email.
After accessing the discord, go ahead and activate your account's dashboard using the bot key provided at the time of purchase. If you can't remember your product key, you may want to contact the support team for assistance.
Once you've activated and can access the dashboard, start by setting up your profiles. These are basically billing and shipping addresses used by the bot to check out multiple products as though they are for clients in different locations. Trickle also supports profile importation. The feature allows you to import prebuilt profiles from leading profile managers, thus saving you a lot of time with the setup process.
With the profiles all set, next, you need to set proxies to conceal your IP. You can set up the proxies by yourself or import them from elsewhere.
Once you have the proxies and profiles all set, the last item in the list is to create tasks. You can do that with the help of the Task Creatorfeature in your dashboard.
When you're done creating tasks, let the bot check out your favorite on-demand limited edition sneakers.
Trickle Bot features
Here are some of the features that power this bot:
The sneaker bot has a professional team of botters for customer support. You can be sure to get help with all issues, be they related to getting started with the bot or any other concern. You can also drop them a message via email: [email protected].
Trickle is one of the cheapest bots around. Currently, their bot key goes for only $300 for the first 3 months, then $50/ month thereafter.
The shoe bot currently supports only two operating systems; Windows and macOS. Other operating systems will be included in due course.
You can use the bot to cop sneakers from a number of sites. Some of the supported sites include YeezySupply, Finishline, JDSports, Footsites, and Walmart.
The mode ensures users are updated on the latest restock and release trends for all limited-edition footwear and apparel. Besides, the restock mode also automates checkouts whenever one of your favorite sneakers is restocked or released. That way, you won't have to worry about missing drops whenever you're far from your computer.
Proprietary anti-bot protection feature
Their in-house anti-bot feature makes it easy to bypass any anti-botting algorithms on sneaker sites. With Trickle, you can be sure to check out those coveted sneakers even when most of the other bots are barely succeeding.
Social networks
If you want to stay in the loop on the latest news about sneaker edition restocks and releases, be sure to check their social networks: Trickle Bot Twitter & Trickle Bot Instagram.
Get started with Trickle Bot today
Whether you're a seasoned botter or a beginner, one thing is for sure – you need those limited edition sneakers so bad. There's no better sneaker bot to help you accomplish that dream than Trickle. Get started today!