TaskBot is a simple All in One bot developed for the iOS 11.2 and later versions. The bot is one of the most affordable, with a flexible pricing model, and an easy to use interface. The fact that it is made for the mobile version makes it even better and more modern.
What is TaskBot?
TaskBot brings sneaker copping to the iOS platform on mobile. With this bot, you do not have to be close to your computer. And the most interesting part is; it supports a good number of popular sites. This bot is quite simple and comes with a simple UI that even a newcomer in the sneaker copping game will understand.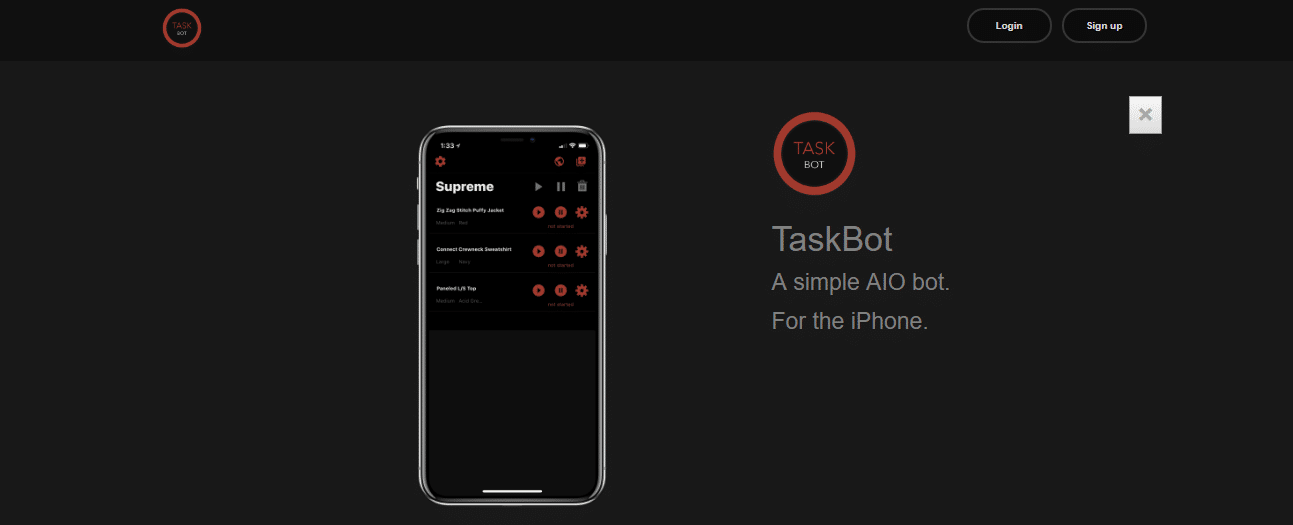 While it might look simple, it is still as functional as other bots and does not really have major flaws because of its simplicity. The major thing you have to be aware before paying for this bot is that it is only compatible with US shipping and billing addresses. Aside from this, there's no major problem associated with it.
How Does It Work?
TaskBot iOS sneaker bot mimics human interaction with the sneaker sites it support. It automates your process on these sites without the website knowing that the web requests are sent by a bot. Because most users of the bot are not programmers, the bot comes with a simple UI that anyone can use. With this UI, you can operate the bot for effective usage. Watch the video below to learn how to use this bot.
TaskBot Features
TaskBot comes with a simple UI – no doubt about that. But do not let that deceive you. The bot comes with some powerful features, just like any other bots in the market. These features are numerous. Let discuss a few below.
Multitasking Capability
TaskBot is multithreaded, and as such, it moves very fast through the process of making the purchase. The multithreaded support also makes the bot have the ability to multitask. You can add unlimited number of tasks, and they will run concurrently if your device permits. Because of this, it also has support for adding proxies and multiple billing/shipping profiles.
Auto-Updates Support
We all like to have the latest version of any software we are using, but going through the stress of installing the updated version is one hassle we dread. With TaskBot, you do not have to worry about update as that is done for you automatically.
Auto-Retry Support
Even the best Software crashes – there's nothing you can do about that. However, after the crash, what happens makes the difference between the ruggedly developed ones and the average ones. For TaskBot, if it tries doing anything but gets an error message, it tries sending the request again.
Keyword Search
TaskBot comes with a Keyword Research tool that helps you find keywords for upcoming drops. This feature helps you stay on top of the copping game.
Pricing
This bot strives on the subscription-based model. The subscription is done monthly and costs only $10. You can cancel anytime you want.
Join the TaskBot Community
If you have always wanted to cop using your iPhone, then here's TaskBot, an iOS AIO bot that fits you. Go to TaskBot iOS website and buy it.