Swiped is a beginner-friendly Supreme sneaker bot developed for the iOS platform. This bot has been found to be reliable and takes sneakers copping to mobile. No more excuse as you can cop from your home, office, or even while on a date.
What is Swiped?
Limited edition Supreme products get sold out in minutes. You need speed to be successful in this game and let face it; your limitation human abilities will slow you down. That's why you need an automated bot that can move through the purchasing process at a blazing speed. Swiped is one of such bots.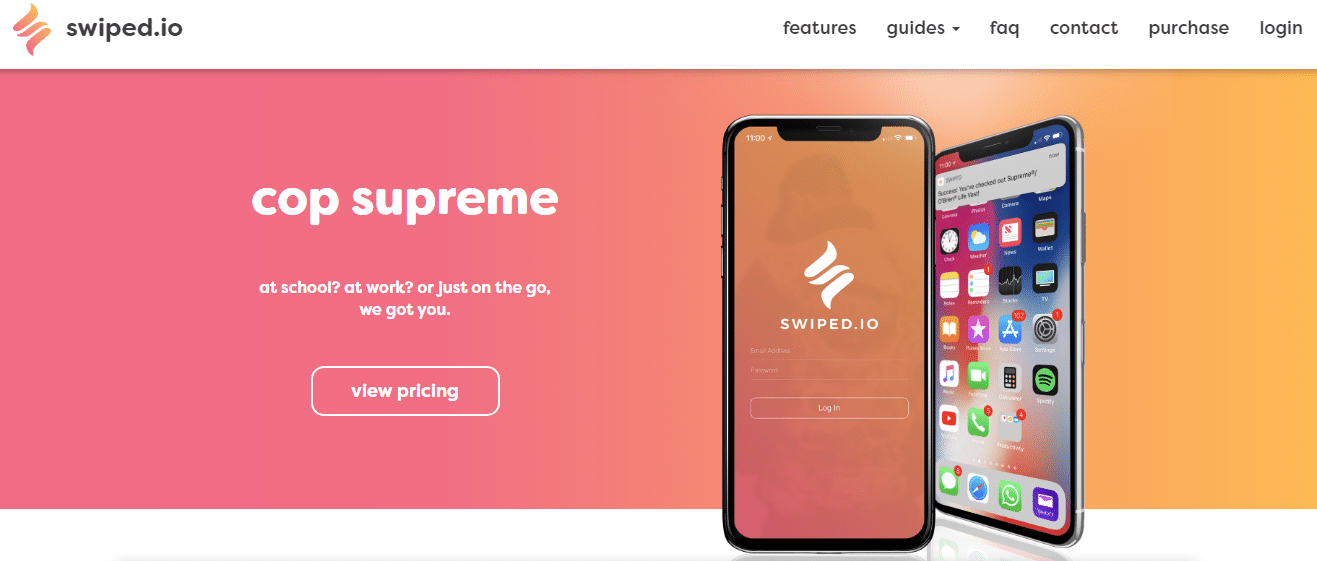 While not guaranteeing you a pair, it sure will increase your chances of succeeding. You read that right; there's no guarantee whatsoever – run away from any bot providing you guarantee. However, it has helped a lot of people cop more than enough pairs of Supreme sneakers and other items such as clothing as well.
How Does It Work?
Regardless of whether a bot is mobile or desktop-based, they all work in the same way. The bot is made of two parts – a Graphical User Interface (GUI) and a backend. The backend holds the bot logic, all its tricks, and twist. It is responsible for sending requests to Supreme servers. The GUI is just a controller for the backend since most of its users aren't programmers. Here's a video of how you can use the bot to cop sneakers from Supreme sites.
Swiped Features
Swiped is a beginner-friendly. Aside from this, there are other features that many of its users find beneficial that has kept them loyal to date. Let take a look at some of these features.
Unlimited Task Support
Except if you are just a Supreme sneakerhead that requires just a pair, you'll require this feature to be successful. No one wants to use a bot that does not support adding a good number of tasks to increase your chances of winning since some will cop, and others will fail. This feature is possible because of the multithread ability of the bot. The multithreaded support also makes the bot fast.
Anti-bot Bypass
Supreme sites are aware of sneaker bots and are always on the lookout for way to detect and block them. The fight against botting is an unending one. Supreme has developed a lot of techniques to detect bots and captcha is one of them. Swiped comes with a captcha bypass technology to evade this.
Restock Monitor
No matter how fast you are, you'll miss out on some drops – and no, it is neither your fault nor that of the bot. However, when this happens, Swiped can help you standby, monitoring the site for restocking and quickly making an attempt again when the item is available.
Customer Support
The team behind the management of Swiped has put in place ways you can reach them, ranging from the contact form on their website to their Twitter handle. They equally provide you information about release guides to help you make better decisions.
Pricing
To sweep any Supreme drop with the Swiped bot, you need to subscribe to their service. The subscription is seasonal-based. The subscription price for a season is $50.
Get the Bot Now
If what you read about the Swiped Supreme bot above caught your attention, then I will advise you to visit their website to learn more about them and probably pay for a subscription.