RotatingProxies provide you with proxies containing business-grade features. With a highly diversified proxy network, they ensure your online activities are at full capacity.
RotatingProxies – an Overview
If you are looking for backconnect proxies compatible with any software, you should consider RotatingProxies. They provide premium proxies that can bypass any website filters; they take pride in having a record of no blocked sites.
It is important to have a dedicated proxy to help you cop with proxy-sensitive sites such as OVO, Adidas, Supreme, and other websites. RotatingProxies have a couple of proxies that are specialized for specific use.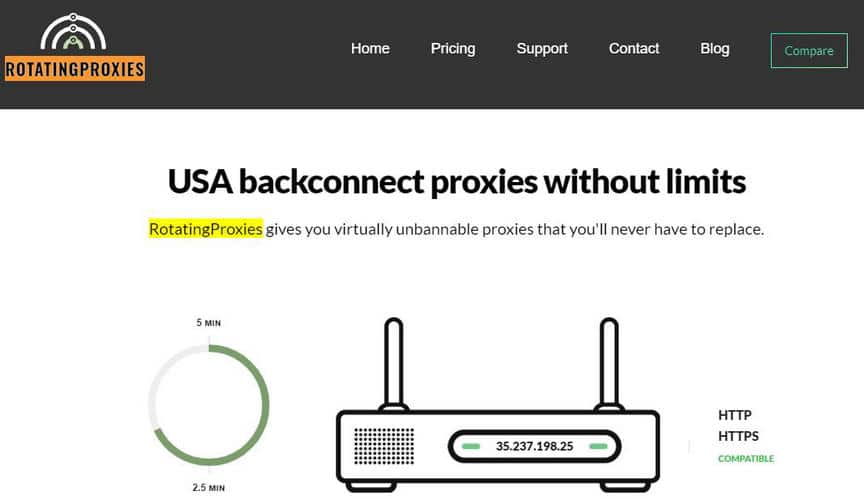 Other than dedicated proxies, let look at some other incredible features offered by RotatingProxies on their web page.
UnmeteredBandwidth
Unlike other proxy providers, RotatingProxies offers unmetered bandwidth to its customers. This enables you to send an unlimited amount of requests without having to pay a dime. They give high connection limits without any bandwidth fee.
Furthermore, there are no other hidden costs per gigabyte, giving you the freedom to use your data as you wish.
Undetectable and unrestricted
Having completely anonymous proxies has many benefits for you. RotatingProxies protect your internet connection by keeping you're your proxies undetectable and anonymous.
They provide amazing features such as unretained URL log history and protected HTTP message headers. This is the surest way to avoid being blocked or banned from accessing certain sites due to proxy threats.
RotatingProxies have an available feature, which is not the case for most proxy providers. They enable you to surf without any site restrictions or connection throttling.
Evergreen Proxy peer pool
With an ever-growing proxy network, RotatingProxies offer a wide variety of IP addresses. They also have a couple of subnets plus a good amount of broadband ISPs. Having a huge pool of IPs puts RotatingProxies in a better position to mask your IP address, making it impossible for your real IP to leak.
Automatic proxy rotation
ROtatingProxies have an automatic proxy rotation feature that allows your IP address to change every five minutes. You can also change your IP address, and it will automatically rotate upon request. This means you will have a new identity for all the websites you visit every five minutes.
Day to day network refreshment
For them to maintain a high-quality network, they review and refresh it daily. This helps keep the pool of back connected proxies at optimum levels all day, every day. By doing this, they can mitigate buffering and network interruption during the time of usage by customers.
Pricing
RotatingProxies offer very pocket-friendly data plans, all on a monthly basis. Ranging from 10 proxies going for $39 a month to 500 proxies going for $969 monthly, you are assured of getting the best quality proxies for your internet ventures.
They also have an option for bulk dedicated residential proxy, going for as low as $1.88 per proxy; they offer huge discounts for all the bulk proxy offers. You get unmetered bandwidth for all the available plans, five-minute rotation, ultimate unanimity, among many other classic features.