QBot AIO Sneaker bot is one of the best sneaker bots available on both Windows and Mac. The bot works on many sites and can be termed as affordable, fast, versatile, and easy to use.
What is QBot AIO?
QBot is an All in One sneaker bot. the bot has been developed to enable sneakerheads and resellers to stay on top of the copping game. In case you are not aware, the copping game is a game of speed – with some unique twist such as queue bypass. And you will agree with me that speed is one thing humans are not known with when compared to machines. QBot has the required speed and other techniques required to ensure a successful cop.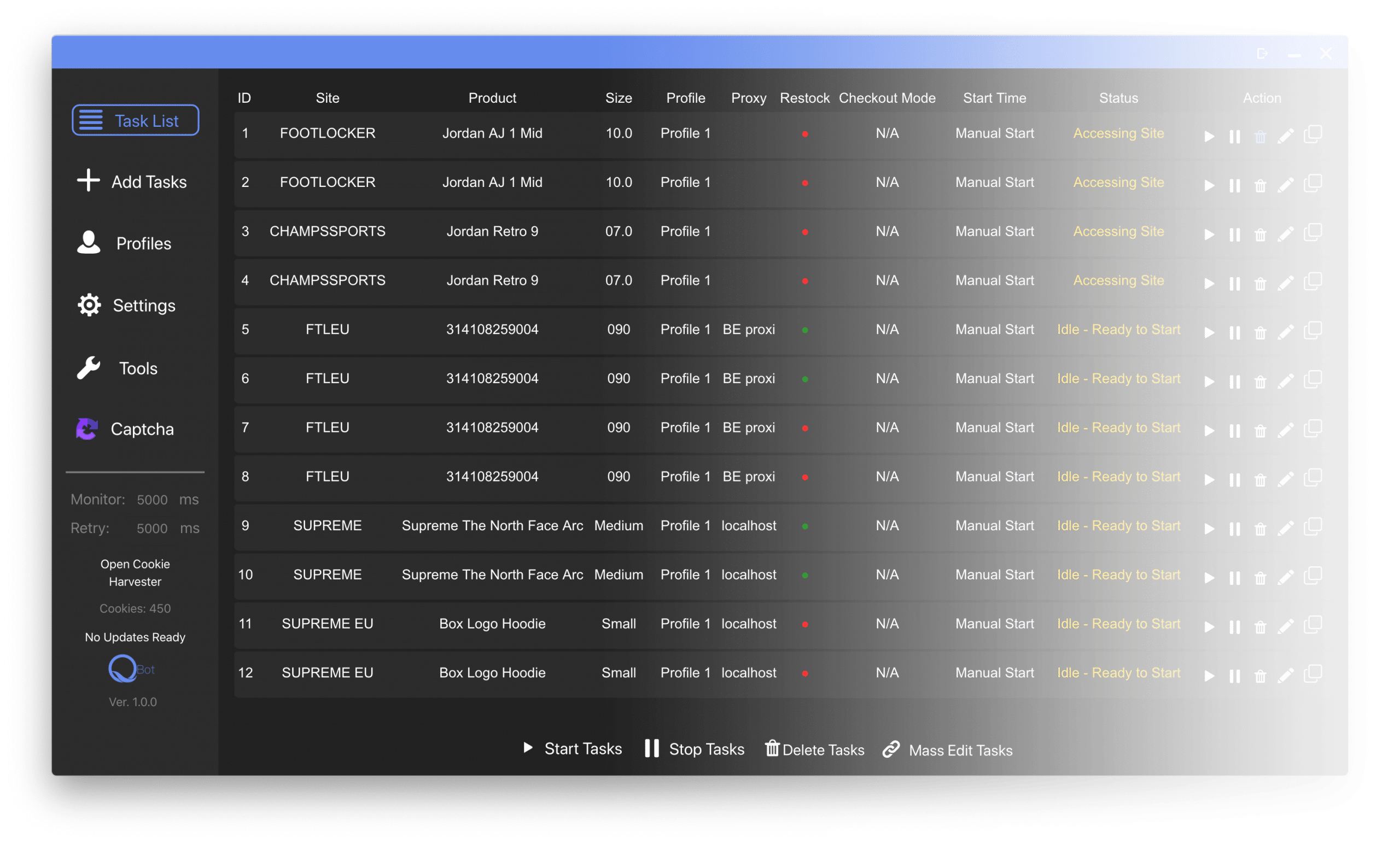 This bot comes with a lot of power and features to make sure that you will have more of wins. However, just like all other bots in the market, QBot AIO sneaker bot does not guarantee you success – it only increases your chances to the maximum.
How Does It Work?
QBot is nothing more than an automation tool. It replicates the steps you will take in making purchase on sneaker sites. However, it does this fast and can even multitask. The bot comes with a user interface and a backend. The user interface is the part you interact with, and you can see. The backend reacts to your interaction with the user interface and carries out a host of actions including sending web requests on your behave.
QBot AIO Features
QBot AIO sneaker bot looks simple because of its look, but looks can be deceiving. QBot is a complex piece of software with some powerful and interesting features. These features had made it a great performer and fluid. Some of these features are discussed below.
Multiple Sites Support
One of the features that come with QBot is its support for many sites. this makes the bot an All in One (AIO) bot. the bot provides support for Shopify-based sneaker release stores, Footsites Supreme, and many more. Their support for Footlocker is just for Footlocker EU. With this, QBot might be all you need to remain in the game because of its versatility based on site support.
Multi-Task Support
QBot is multithreaded. For the uninitiated, what this means is that the bot can carry out a good number of activities at ones without one interfering with another. With multithread baked into the bot, it comes with support for adding hundreds of tasks, and these tasks will run concurrently. This will increase your chances of succeeding since you are bound to have wins and losses.
Captchas Solver
QBot has found its way around solving captchas. Even though it tries to keep the occurrence of captchas to the barest minimum, it has not been able to eliminate them completely. However, it comes with a captcha harvester that makes solving captchas easy and fast.
Pricing
The bot is currently sold out, and as at the time of writing this article, there is no publicly available pricing for this bot. To know when they will be restocking, follow them on Twitter (@QBotaio).
Join the QBot AIO Community
The bot is currently in Beta, and as such, you can enjoy an upper hand if you join. As I stated, it is currently sold, but following them on Twitter will help you get notified when their licenses are on sale.