Do you want to build your own 4G mobile proxies using a USB dongle? If so, then Proxidize is the ultimate solution.
Proxidize Proxies – an Overview
Having been designed philosophically with efficiency and simplicity being the top consideration, Proxidize enables you to effortlessly build a 4G mobile proxy without any technical knowledge.
They have highly experienced providers in the proxy industry and take pride in being the most comprehensive and profoundly advanced proxy solution. Proxidize enables you to create a 4G mobile proxy in any country of choice using any mobile carrier.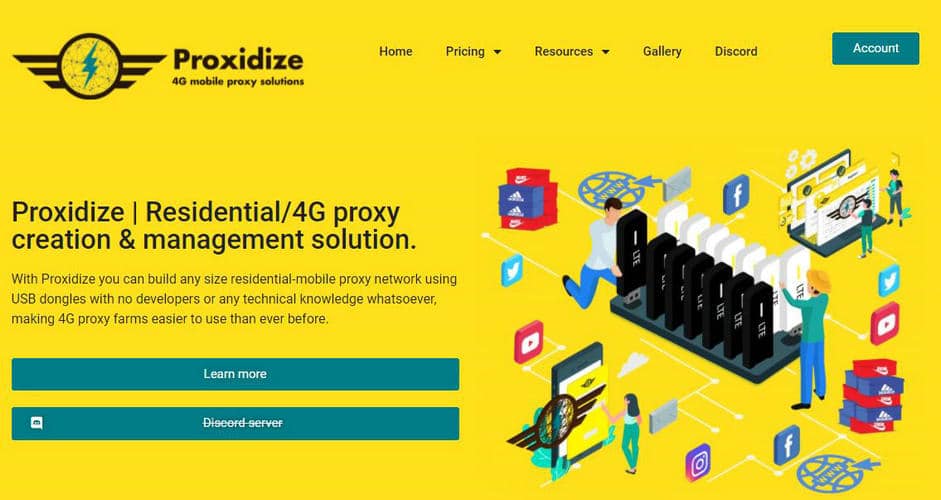 What else does this outspoken provider offer apart from residential and LTE proxies? Here is what you stand to benefit from Proxidize.
Carrier-Grade Network Address Translation (CGNAT)
It's no doubt that the use of 4G mobile proxies has recently become the most advanced type of proxies. LTE mobile proxies have fully trashed the use of traditional IP bans. CGNAT allows thousands of people to use a single IP for data connection; banning one IP could affect very many real users.
Proxidize utilizes this particular technology to camouflage the IPs of real users, making it hard for anti-automation algorithms to detect their customers.
Easy to manage
There is no better feeling than having a proxy provider whose site is user-friendly and easy to navigate. Proxidize guarantees you an unlimited lifetime license for any plan that you purchase.
In the dashboard, you are given an option to change your IP address whenever you want and even create shared proxies. They have a live dashboard demo that allows interested parties to test their features. However, some parts can only be accessed in the premium version.
High speed and cost-efficient
Proxidize is the best 4G mobile proxy provider in terms of speed and cost-efficiency. With a speed of up to 150 Mbps, you are assured of having over 99% uptime. It is also cost-efficient as its package plans are pretty affordable.
Essential and easy to integrate
Making your LTE mobile proxies is the surest way to ensure quality in the proxy you are using. Proxidize also offers a fully customized dashboard with API to enable the proxy to integrate into any software. Having been a central player in the industry for more than four years, the experts that created Proxidize understand the market pain points. This enables them to offer nothing but the best to their customers.
Money-back guarantee
Proxidize is an honest company with no hidden charges for its data plans. Once you purchase any package, you get a 30-day money-back guarantee. This gives you time to try the proxies, and if you think you don't like their services, you can get back your money and purchase a better plan or get an alternative solution.
Reliable customer support
Are you tired of proxy providers that take too long to respond to queries or don't respond at all? You have to try Proxidize. They have invested in a professional customer care system that will not leave you disappointed. It only takes a few hours, if not minutes, before your queries are addressed.