Plugged AIO is the fastest sneaker AIO bot on the iOS platform. It is sleek, easy to use, and mobile, making it a portable option for the busy sneakerheads.
What is Plugged AIO?
Plugged AIO is a mobile automation software meant for purchasing limited-edition sneakers. This bot was developed for the iOS platform and did more than just adding to cart: it also comes with an auto-checkout feature that makes it an all-rounder. After entering your proxies, billing and shipping details, and account information, you can go to the back seat and wait for the delivery of the items – that's how functional the bot is.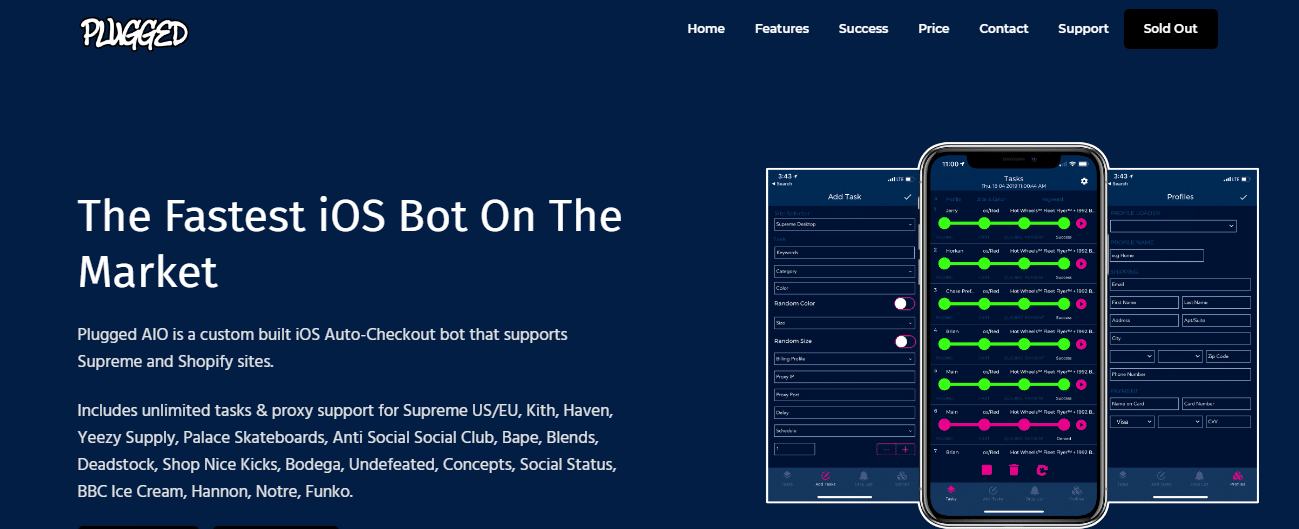 This bot is one of the first sneaker bots available publicly that graced the iOS platform. Interestingly, it came with some unique twists that other bots envied and had to adopt. Simply put-Plugged AIO is a force to reckon with in the sneaker botting iOS submarket.
How Does It Work?
There's no much difference between the way iOS sneaker bots work and the way others work. They work pretty much the same. You, as a user, is presented an interface that you interact with.
Your interactions are sent to the backend of the app which then sends your requests to the sneaker sites on your behave. However, it does this faster than you can, and as such, it increases your chances of succeeding. To learn how interact with the Plugged AIO, watch the video below.
Plugged AIO Features
Plugged AIO has helped a lot of sneakerheads avoid paying resale prices by buying from the release site at the retail prices. As a reseller, you do not have to worry as many of the users of bot are reseller. The bot is able to function the way it does because of some features that come baked in it. Some of these features include.
Supports Many Sites
Plugged AIO bot provides support for many sites. However, it does not go overboard with this and considering its price, the number of sites it supports, the price is worth it. Plugged AIO supports all Supreme sites, and a host of Shopify store, including Yeezy Supply, Kith, Shop Nice Kick, and Bapes, among others.
Unlimited Tasks
You are not limited to a certain number of tasks. You can create an unlimited number of tasks, and they can all run concurrently because of the multitasking and multithreaded nature of the bot. This then means that you can cop potential as many pairs as you want at a time provided you have the required proxies and billing details, as well as shipping addresses.
Regular Updates
With Plugged AIO, you do not have to worry about the bot breaking because the team behind its management is always working round to keep it functional and bug-free. If any site makes a change to its architecture, the team will react to it immediately. Interestingly, you do not have to pay for the update as it is baked into their yearly subscription price.
Supreme Account Creation
You can use this bot to create accounts for Supreme New York. This is the first of its kind in Supreme botting. This makes your life easier especially if you need to create a lot of accounts.
Customer Support
Plugged AIO has got a good customer support team that's always ready to help their customers with clarifications. They even have live chat support that customers can utilize to get real-time communication with the team.
Pricing
Despite its features, Plugged AIO comes at a price that can be termed cheap. It cost $100 for the first year, after which you will have to pay $50 for annual membership.
Join the Plugged AIO Community Today
Plugged AIO is one of the most secured, reliable, and cheap sneaker AIO bot developed for the iOS platform. If you are interested in buying this bot, visit the Plugged website now.