HS Supreme bot is one of the bots developed by Heated Sneaks. The bot was made for Supreme sites and has so far proven to be one of the best in the market. Its license is also available across platforms.
What is HS Supreme Bot?
HS Supreme Bot is a sneaker copping bot specially developed for copping limited-edition Supreme sneakers. Aside from copping sneakers, it can also be used for copping other items such as clothing and some accessories. The bot does nothing different from what you do – it simply automates your actions but does so very fast and can even multitask and get more than a pair copped at ones without getting detected and banned.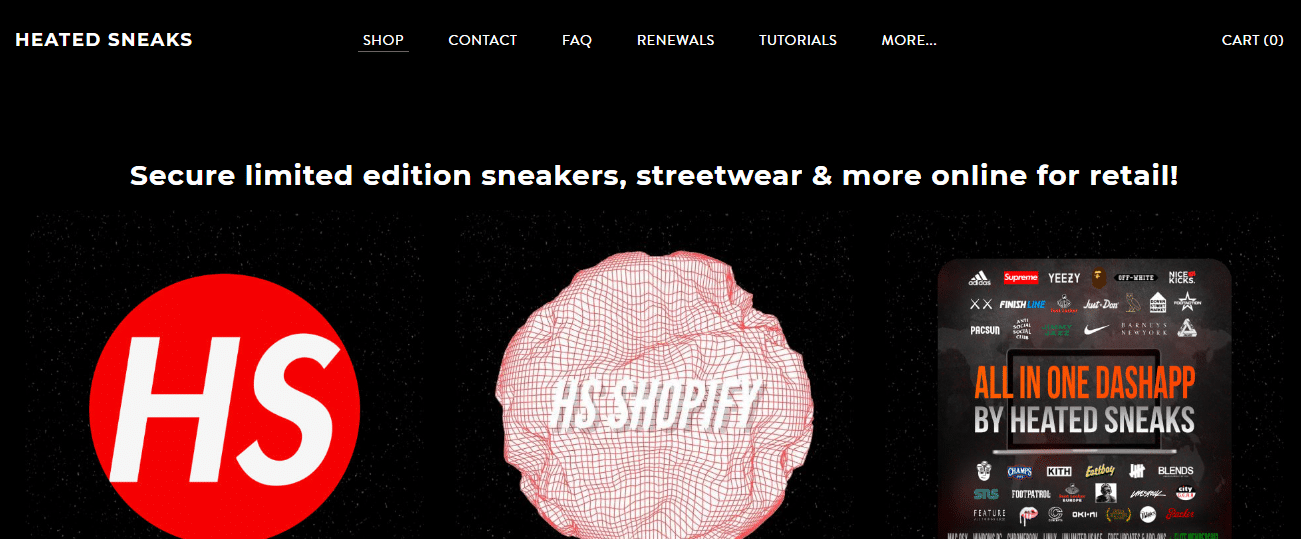 The team behind the development of this bot is an experience one. Alongside HS Supreme Bot, they are the developers of HS Shopify and HS AIO DashBot. The bot has recorded a great level of success and has got a large customer base.
How Does It Work?
HS Supreme Bot comes with a user interface and a backend. The user interface is the part of the bot you can see and interact with. The backend holds the bot logic and all the functionalities. It is the backend that's responsible for sending requests to Supreme sites. This bot is easy to use. To learn how to use it, watch the video featured below.
HS Supreme Bot Features
HS Supreme Bot is a powerful Supreme bot. It is rugged and comes with some features that will increase your chances of  winning and help you avoid ban. With these, you can avoid paying resale prices. The features are many, and as such, we can only discuss a few of them.
Avoid Detection
Supreme sites are becoming smarter and aggressive with their fight against bots. They recently created an anti-bot system known as Pooky System that can use the speed at checkout to detect bots. Supreme Pooky system successful at the time it was pushed to their anti-spam system – virtually all bots failed to bypass this. Soon, some bots begin to incorporate features that will help them bypass this – HS Supreme Bot is one of such bots.
Restock Monitor
You are bound to miss drops, no matter how early you come in. And no, it is not your, and neither is it that of the bot. Sometimes, Supreme randomize the queue, in a bid to frustrate those trying to game the system. Other reasons could lead to you losing out. When this happens, HS Supreme Bot will standby, monitoring the sites for restocking and when it happens, it tries to cop again.
Unlimited Task Support
HS Supreme Bot has support for adding an unlimited number of tasks. With this feature, you can cop many items of the same model. Interestingly, multiple carting is allowed in other to reduce the amount spent on shipping. The multithreaded support makes it possible for tasks to run concurrently.
Pricing
HS Supreme Bot is one of the cheapest Supreme bots in the industry. For only $4.99, you can buy a license to this bot that you can use on both PC and iOS.
Buy this Bot Now
HS Supreme Bot has proven to be one of the best Supreme bots in the market. It has worked for many sneakerheads; it will work for you too. Sign up for an account on their website now.