If you are looking for a sneaker proxy provider with dedicated pools of IPs, look no more when Hollow Proxies is at your service.
Hollow Proxies – an Overview
Having a dedicated proxy helps in copping most sneaker site's pairs. In Hollow proxies, you will find specialized proxies dealing with sites like Yeezy, Adidas, Nike, Supreme, and other platforms. This dedicated proxy mainly emanates from the datacenter, where their speed is unquestionable.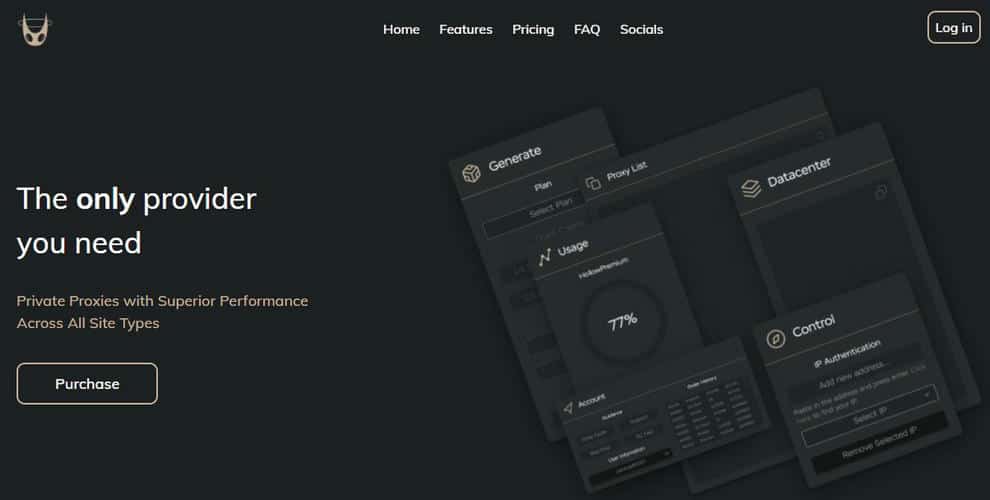 Other than the dedicated proxies, let's look at the features of Hollow proxies starting with its IP Types.
Hollow Proxies' IP types
Hollow Proxies provides both residential and datacenter proxies. The residential proxies are ISP-tied nodes that change or refresh per every task. On the other hand, datacenter Proxies come from Hollow Proxies servers.
Hollow Proxies contains a massive pool of residential IPs which grab a fresh IP for every sneaker drop edition. Even when such sites ban and block your IP connection, the residential proxies will find you a new IP to keep you connected.
When it comes to datacenter proxies, these proxies are dedicated to most sneaker platforms. That means they harness a higher proxy speed of about 100GBPS or more.
Prices
Hollow proxies fix their rates according to proxy types-which is evident in their 'pricing plans.' Residential proxies are cheaper than datacenter proxies because datacenter has added costs of dedicated nodes. But one good thing with datacenter proxies is that they have unlimited bandwidth.
Residential packages include HollowVoid and HollowPremium, which have rates of $30 and $32, respectively. Their other difference is that HollowPremium allows geo-targeting while HollowVoid does not.
With datacenter proxies, it offers monthly, daily, and weekly packages for every plan. Hollow Proxies also have datacenter plans like HollowISP premium and Hollow ISP. HollowISP premium is expensive that costs twelve dollars more than its counterpart.
But one thing you'll love about datacenter proxies is that they are dedicated to platforms like Shopify, US footsites, Supreme, Yeezy, Nike, and others.
Speed and reliability
Hollow proxies are fast because of their enhanced datacenter proxies' speed. This speed rates at 100GBPS, and this figure can go up when Hollow servers are close to sneaker site locations. Hollow proxies have 99% uptime, and their dedicated servers have unlimited bandwidth.
Authentication
Hollow proxies provide a username or password authentication for all proxy types, but there is an added IP authentication in datacenter nodes. When you register with Hollow Proxies, you provide the username or IP authentication details, where the computer records and authorizes websites connection using them.
That is the same case with IP whitelisting or authentication. In this case, the system authorizes your provided whitelisted IPS as a key to connect to websites.
Instant delivery
Unlike other proxy providers, where it takes days to activate your account or deliver a proxy service, Hollow proxies take few hours. All you have to do is follow the procedure set to buy a service or create an account.
Responsive customer service
Do not be troubled if you have queries or issues about Hollow Proxies. This provider has a responsive customer support where you can contact them on Twitter or discord.
For more information about this proxy provider, please visit its site.