Is it incredible to have a proxy site that lets you buy residential proxies from other popular sites like Bright Data, Smartproxy, Hellnut, Awak, GeoSurf, or Oxylabs? If you doubt that, access the Hell World website where you will find the proxy providers it links you to.
HellWorld Proxies – an Overview
If you are an active sneaker buyer, you should know that time is moving fast before the latest sneaker edition finishes. Moreover, if you manage to order thousands of sneakers using sneaker proxies and bots, it's good to resell them for a profit. That's how Hellworld was born.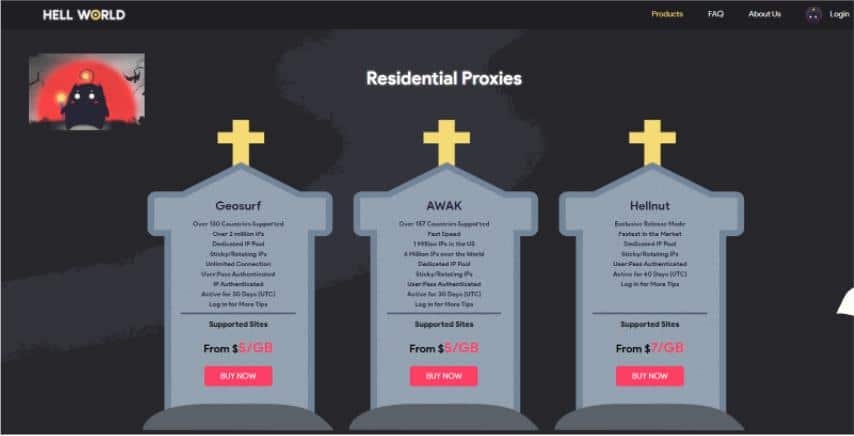 Having a proxy platform that allows you to buy proxies from other sites is advantageous. First, you utilize proxies with high IP pool and wide-area coverage. Secondly, you chose optimize on proxies offering better prices, higher scraping and better sneaker performance.
If you want to buy a proxy plan from Hell World, it's good to register an account. Hell World provides username or password authentication to protect your account. Alongside the username/password, you also input email and other required registration details. Once the registration process is over, you wait for about twenty to thirty minutes to complete the account setup.
If you want to use the best sneaker and scraping proxies in Hell world, you should check at its proxy sites with a high IP pool, wide-area coverage, rotating and sticky IPs. A faster site also would be crucial for data scraping and sneaker sites.
Another thing that you will love with Hell world is its discord feature Discord. You can join a party chat or contact Hell World's customer care through a ticket on discord.