There are few Mesh sites specific bots in the market, and Hawk Mesh Bot is one of those bots. Interestingly, it is arguably one of the leading bots in such categories and has enjoyed some high level of success.
What is Hawk Mesh Bot?
Hawk Mesh Bot is a sneaker bot that was made specifically for copping limited-edition high on-demand sneakers from Mesh sites. The bot works on many Mesh sites including Size, Hipstore, Footpatrol, and JDSports, among others. The bot works only for the European versions of the sites it supports. Because of this, it has good followership in Europe. If you want to use it from another region, then you have to make use of reshipping companies. Reshipping companies are companies that will receive your orders then send them to you in your own country.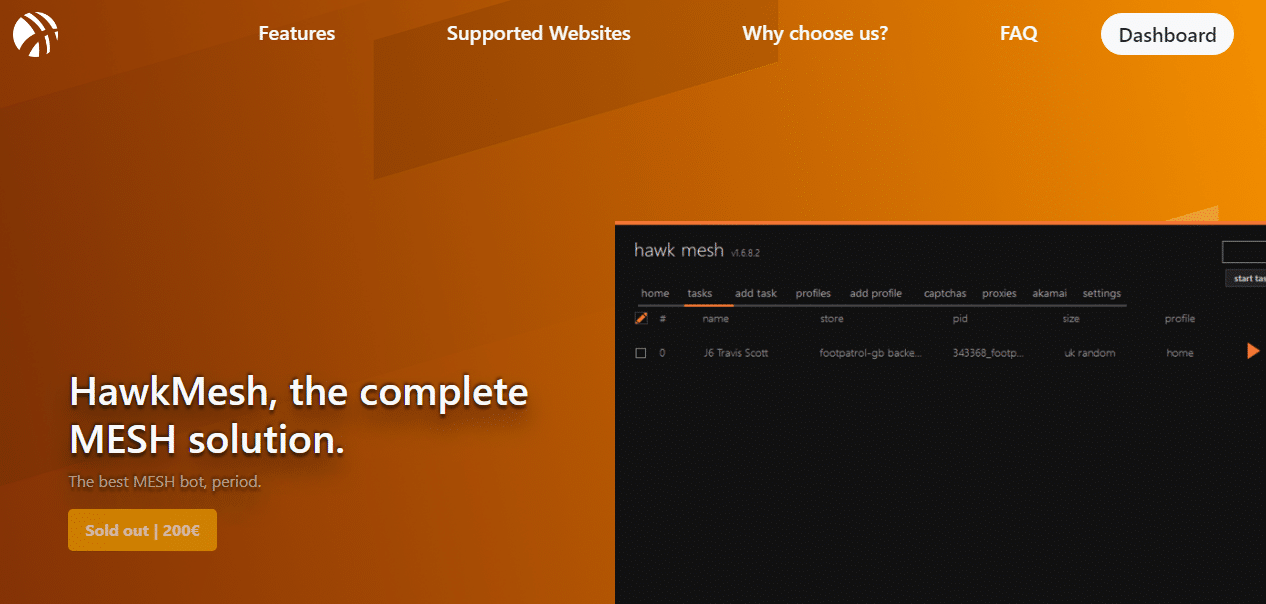 One thing you will come to realize about Hawk Mesh Bot is that it is somewhat of a secretive bot. Only a few users get to use this bot. From speculations, there are currently only 150 persons making use of this bot. however, the number of people using the bot has nothing to do with the performance of the bot. in fact, Hawk Mesh Bot remains one of the leading Mesh sites bots in the market. The small number of sites they support and their small customer base, give them the privilege to streamline themselves into providing a better service.
How Does It Work?
Hawk Mesh Bot automates the process of making purchases for the sites it supports. It consumes the APIs on these sites and sends requests through them, mimicking the action of humans. While it makes sure that your chances of succeeding are high, it also tries as much as possible to avoid detection, and so far, it has succeeded in this regard. For this bot to function effectively, it comes with both a backend and a User Interface. The backend holds the logic while the User Interface serves as the bot control panel.
Hawk Mesh Bot Features
Hawk Mesh Bot is a powerful sneaker bot, sweeping a good number of drops in the past without any sign of slowing down. In this section of the article, I will be discussing its key advantages.
High Success Rate
Hawk Mesh Bot has enjoyed a high success rate, and from the antecedent pf its developers, this will only increase in future. Hawk Mesh Bot has successfully been used to cop thousands of limited-edition sneakers. This had kept it ahead of many other Mesh Bots.
Blazing Fast Speed
This bot has been optimized for speed. The bot is multithreaded and can carry out more tasks at ones. This makes it possible for you to create more than a copping task, and all the tasks created will run concurrently.
Anti-captcha System
The bot does not have a captchas solver by itself. However, it provides support for using captchas solving services like Anticaptcha and the 2captchas service.
Pricing
To make use of this bot, you need to pay for a lifetime license, and the cost of doing that is £200.
Join the Hawk Mesh Bot Family
The functionality of Hawk Mesh Bot cannot be doubted. If you want to make use of it for your next cop, visit the Hawk Mesh Bot website and make inquiries.