Hastey is one of the bots in the market that sneakerheads have had success with on Supreme sites, especially for restock drop. The bot is secure, reliable, and gets the job done quickly.
What is Hastey?
Without a sneaker bot, sweeping a limited-edition drop is not only difficult but sometimes not even possible. For Supreme sites, Hastey is one of the bots that you can use on them. Hastey provides support for sneaker sites in all the Supreme regions, including the United States, Canada, Europe, and Japan. The bot is currently working on adding support for Adidas sites. it is also working on an iOS version of the app. The bot comes in a beautiful design that you will love.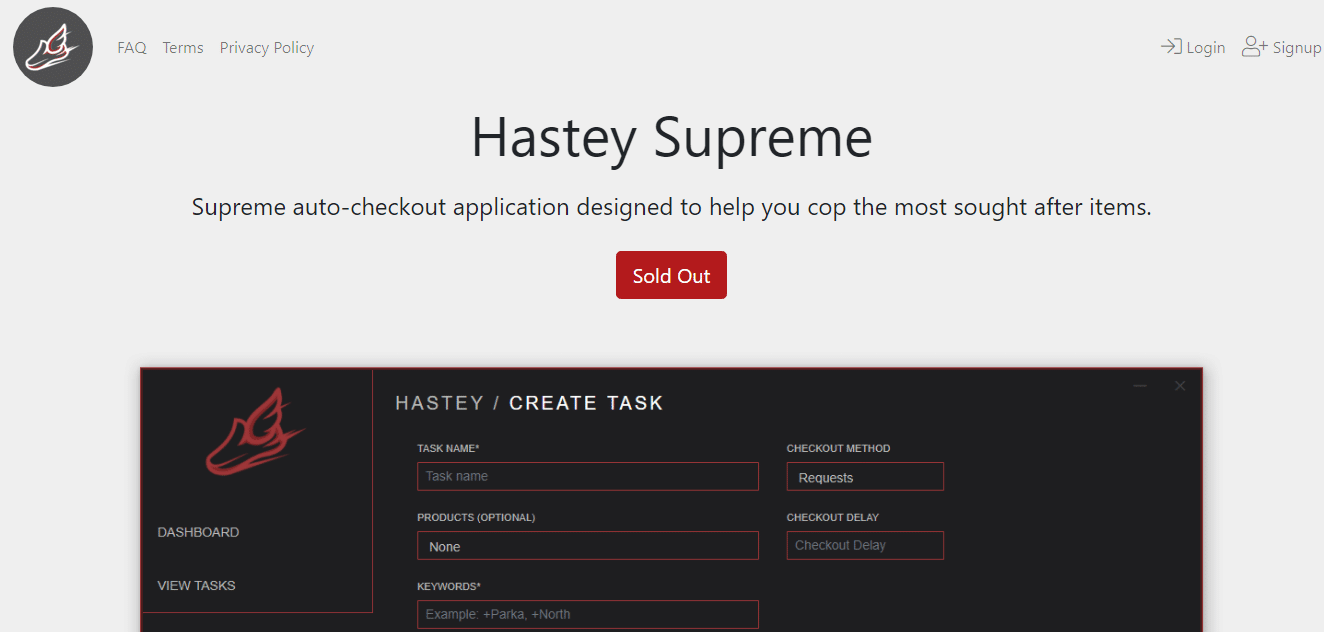 Even though it has recorded some ground-breaking success, it is still new in the market and has some aspects that need to be improved. Supreme is notorious for using the speed of checkout to fish out bot ad Hastey does not seems to look deep into this. This does not mean that accounts get banned from using Hastey – no. In fact, as I stated earlier, they have recorded a good level of success.
How Does It Work?
Hastey is nothing more than an automation bot – it automates the process of purchasing limited-edition sneakers from Supreme sites. how it does this is simple; it consumes the Supreme sites' APIs and pretends to be a browser with someone behind its actions. The bot comes with a backend and a front-end, otherwise known as the User Interface. The backend handles all the functionality of the bot which includes sending web requests. For it to function, you need give it command. The User Interface is the controls you can use to give it command.
Hastey Features
Hastey looks simple from the outside. However, the inside isn't simple. If there is a better way to put it, Hastey is complicated from the inside. This is because of the features that come with it. It is these features that make it as functional as it is. Let take a look at some of these features.
Multithread Support
Hastey is a modern sneaker bot even though it is new, and as such, you do not expect it to come without this feature. For those that do not know what multithread means, it is the technical word for multitasking. This means that the bot can multitask. You can create a good number of tasks, and the bot will run them concurrently.
Captcha Solver
One of the tool sneaker sites uses in frustrating sneaker bot users is captcha – and hardly can you avoid them as a sneaker copper. However, you can make use of bots that can help you in the solving process that solving them becomes easy. Hastey comes with a captchas harvester that makes solving captchas easy.
Pricing
While I am tempted to give a price, I will not. This is because their license is currently sold out, and we do not know how much they will be priced. When they came into the market, they sold for $80, and after the bot recorded some huge success, they move the price up to $500. However, the success rate of the bot has reduced, and as such, we expect to see the bot reduce in price when they restock again.
Join the Hastey Community
If you are interested in buying their license, visit the Hastey website, and pay for it. If it is sold out, you can simply follow them on Twitter to know when they are restocking again.