Ganesh bot is one of the top sneaker bots in the market. Even though it enjoys a high success rate, Ganesh sneaker bot is not recommended for beginners as you need a rugged setup to get it to work. However, when the setup is done correctly, expect to sweep any release you take part in.
What is Ganesh Bot?
Ganesh bot is a sneaker copping bot specially developed for copping from Footlocker EU, Offspring, and Size? If you are conversant with these 3 sites, you'll know that they are all UK sites, and as such, it is wise to say Ganesh sneaker bot is for the UK audience. However, if you are still interested in making use of the bot, you can make use of reshipping address – this is expensive for less expensive items. The bot has been consistent in destroying releases, and it is not showing size of going down.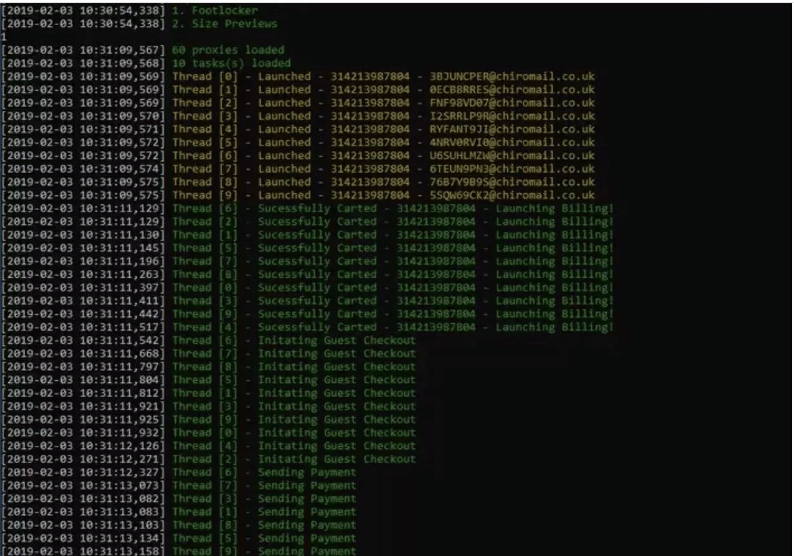 However, it is very expensive and has not restocked for a long time now. Ganesh bot came out from nowhere to take the market by surprise – its success rate was so high that it became one of the most expensive bots in the industry. It expensive pricing aside, it is likely you won't even get your hand on this bot from Ganesh because it is sold out, and they aren't talking of restocking. Until they do, you are left with no option other than buy from a reseller.
How Does It Work?
Ganesh bot is nothing more than a web automation tool. It automates the process of purchasing limited-edition sneakers from Size? Preview, and Footlocker EU sites by consuming APIs their APIs. The bot has a backend and a User Interface. The User Interface is the part of the bot you interact with – it is clean, modern, and sleek. The backend holds the logic of the bot and is hidden from you. The backend is responsible for sending web requests on your behave.
Ganesh Bot Features
There is no doubt about it, Ganesh sneaker bot is garnished with some powerful features. These features had made the bot so popular and have increased its value. Let take a look at some of these features.
High Success Rate
The success rate enjoyed by Ganesh bot is very high and only paralleled by a few bots in the industry. To many, Ganesh bot should still be an upcoming bot, but no, it came into the market and took everyone by surprise as its users were able to cop more pairs than other bots users.
Regularly Updated
Ganesh sneaker bot enjoys regular updates. The team behind its development is up and doing, always looking out for opportunities to make changes to the app. It does not only make changes when there is a change on the site it supports. The team is also on the lookout for bugs and optimization opportunities.
Multithread Support
Ganesh bot is not only fast in its task execution, but it can also run more than a task at ones. This is because of its support for multithreading, which can get it to run tasks concurrently.
Pricing
Ganesh is an expensive solution that beginners shy away from. You can get a copy of the bot from them at a price of £550 – if it's on sale. If the bot is not available, you have to buy from resellers, and it sells at prices over £1000. Even with the initial payment, you need to renew the bot license every 6 months at the cost of $80.
Join the Ganesh Bot Community
If you follow Ganesh Bot on Twitter, you'll know how popular their bot is. To get your hand on a license, visit the Ganesh Bot website.