Are you looking for an All in One Bot (AIO Bot) that works well with European sneaker sites? then look no further as Fleek Framework is here for you. It is reliable, secure, fast, and easy to use.
What is Fleek Framework?
At the time of sneaker limited-edition releases, competition is fierce, and only the fastest in most cases survive the competition and get for themselves a pair for personal use or resale. To beat the competition, you need a sneaker bot, which is nothing but a piece software that automates the process of purchasing limited edition sneakers from websites. Fleek Framework is one of such bots that provide support for sites in the EU such as Footlocker EU, Footpatrol/ Mesh sites.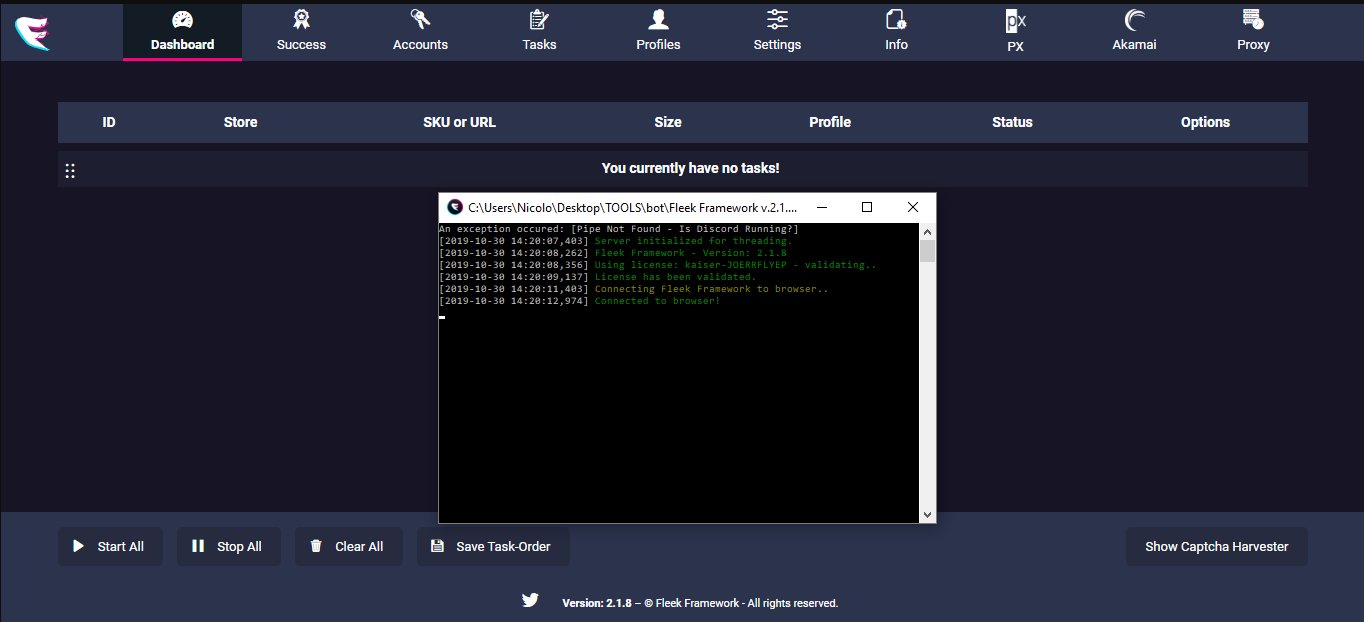 One thing you will come to love about Fleek Framework is that it is an AIO Bot and can save you money since it provides support for many sites. The dark side is that it supports majorly only EU sites, and even at that, you might run into cookie related problems on Mesh sites that can ruin the game for you. However, with the right skills, you can become successful using Fleek Framework because of its powerful features.
How Does It Work?
For the uninitiated, it might seem like Fleek Framework is performing some sort of magic behind the scene, but believe you me, it doesn't. In fact, the bulk of its activities replicates what you will do manually on the sites it supports. The main deal is in the speed it provides and its multithreaded capability. Fleek Framework is super-fast and can get items checked out from the cart within a few seconds.
The bot comes with a user interface and a backend. The backend holds the bot logic. The user interface is the part of the bot you can see and operate. To learn how to operate this bot and get the most out of it, watch the YouTube video featured below.
Fleek Framework Features
Fleek Framework is a powerful sneaker copping bot. It comes with some features that do not only make the copping game possible but easy and enjoyable. Let take a look at some of the features that come with this bot.
It is Cloud-Based
If you are conversant with the sneaker bot market, you will know that most bots are not web-based – they are usually Windows-based, with some coming as Chrome Extensions. iOS and Mac supporting bots are also available. One thing with these bots is that they are platform dependent. For a cloud-based bot like Fleek Framework, you can run them any device with a browser, including mobile. This makes them more like a cross-platform application.
Multitasking Support
Fleek Framework does have support for multitasking. You can create a good number of tasks, and they will all run concurrently because of the multithread bot support. This increases your chances of succeeding since some of the tasks will lose out, and some will win.
Makes Solving Captcha Solving Easier
If you want to start using sneaker bots, get ready to see captchas and let face it, there is nothing you can do about them – only your bot can help. For Fleek Framework, it reduces the occurrence of captchas and makes solving them easier.
Pricing
As at the time of writing this article, Fleek Framework is sold out, and as such, there is no price publicly available. You have to follow them on Twitter (@fleekframework) to get details of their pricing and when they will be restocking.
Get the Bot Today
As I stated above, the bot is currently sold out, but they do restock. Follow their Twitter handle to get news about restock and get a license for yourself.