Dashe is one of the popular AIO Bots in the market that has helped a lot of fashion enthusiasts secure their favorite apparel and sneakers without paying a resale price. The bot is beginner-friendly and fluid.
What is Dashe?
Dashe is a sneaker bot that can be used for purchasing limited-edition sneakers and other wears from Shopify and Supreme sites. One thing you will come to love about Dashe's support for the Shopify store is that no store is left out – it supports all Shopify stores.
The bot comes with a friendly modern UI that is easy for use, even for new users. It comes in a minimalistic design that hides a lot of the details from the user – just set the most important things, and the bot will get to work.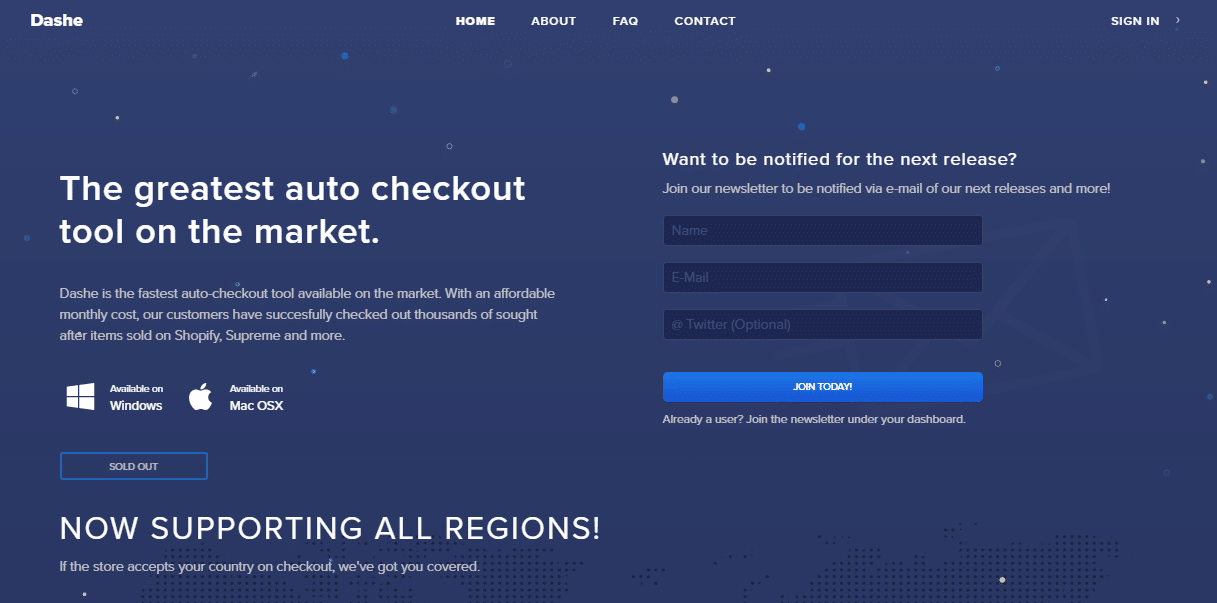 The team behind the development of Dashe is an experienced one in the botting game. They have built Dashe into a masterpiece that is rugged and has been successful in surviving many of the security updates made to Shopify and Supreme that are targeted as discouraging botting.
This had made the bot one of the most popular among sneakerheads. The pricing model of the bot is flexible and does not require any one-time payment – you subscribe monthly.
How Does It Work?
Dashe is an automation bot. It automates the process you'll take when making purchases on the sites it supports. This is done by mimicking browsers and consuming the APIs of these sites. The bot comes with both a backend and a User Interface. The backend is hidden from you but does all the work of purchasing for you. The User Interface of the bot is the front-end and the part of the bot you can see. It is the part you operate and includes all the texts, buttons, and input fields. To learn how to use Dashe, watch the video featured below.
Dashe Features
Dashe looks simple, but don't take that to judge its functionality. It is a complex bot that makes use of all the techniques it can to keep you ahead of others in the copping game. Aside from speed, it has some features that you will find interesting. Some of these are discussed below.
Cross-Platform
Most of the sneaker bots in the market are windows based. For those that claim to be cross-platform, you will discover most of them are either Chrome extensions or web-based. Dashe is one of the few sneaker bots that are truly cross-platform. Dashe runs natively on both Windows (64 bits) and Mac OSX without the need for any additional software.
Multitask Support
Dashe is multithreaded. What this means is that it can carry out more than a task at a go, and they will all run at ones without one interfering with the action of another. This makes it possible for you to concurrently cop more than a pair at ones.
Captchas Solver
Captchas will naturally come when you are making use of a bot. With Dashe, solving them will not only be easy but also fast.
Pricing
As I stated earlier, Dashe is a subscription-based tool. The cost of subscribing to it is $50 monthly.
Join the Dashe Family
No doubt, Dashe is one of the best Shopify and Supreme bots in the market. If you want to join its user community, visit the Dashe website, and purchase a license now.