Codeyellow is a sneaker copping bot with a specialty in ensuring you win raffles and get your hands on those pairs you want. The bot provides support only for sites that make use of the raffle model.
What is Codeyellow?
Codeyellow is a unique type of sneaker bot different most of the bots in the market. The bot focuses mostly on the sneaker sites that utilize the raffle draw model. On these sites, you cannot get your hands on sneakers because you were very fast. Speed isn't as important as luck on these sites – and Codeyellow provides you this.  In fact, some will tell you that Codeyellow is one of the most successful raffle sneaker bots in the market. It has helped many sneakerheads get into raffle entries and secure pairs for them.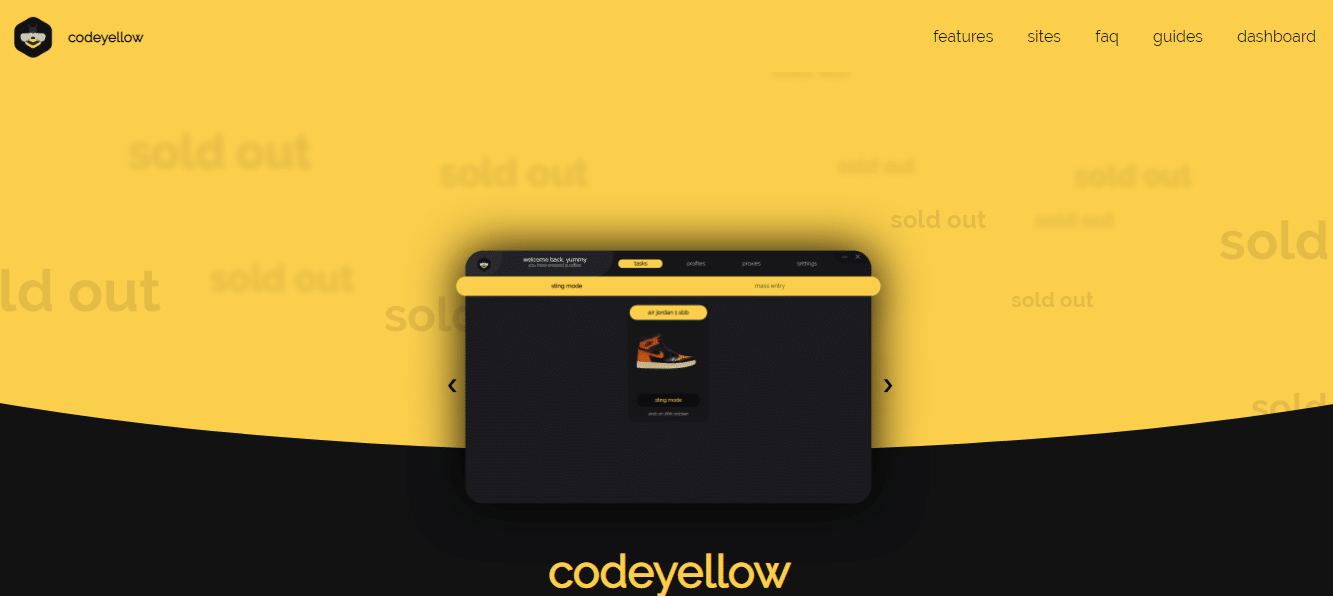 The bot is very fast and comes with some features that make it possible to record success in many raffles it has been used in. the bot comes with support for Windows only. They also stated on their website that they are in the process of coming up with a Mac-compatible version of their bot. for the main time, if you must use Kodai, you either use it on Windows or run it on a Windows VPS. One thing you will come to like about this bot is that it is cheap.
How Does It Work?
Codeyellow does not reveal the actual process and technique it uses to help its customers sweep drops. However, as a sneaker bot, it is nothing more than an automation bot. It consumes the APIs of the sites it supports and sends requests to them on your behave. However, it utilizes some unique techniques to keep it competitive. The functionality of the bot is handled by its backend which is the code layer. The User Interface is the part you can see and the part you use to communicating with the backend.
Codeyellow Features
Codeyellow does it work well and has helped a lot of sneakerheads by helping them enter raffle entries and come out with pair(s). This bot has got a good number of features that make it possible to record the success it enjoys. Let take a look at some of these features.
Support Many Sites
Codeyellow provides support for a good number of sites – but not the popular Shopify, Supreme, or Adidas. It provides support for sites that utilize raffles in choosing who gets a pair of their limited release. Some of the sites it supports Snipeskicks, Solestory, Fearofgod, City Blue Shop, Bdgasotre, and Bstn, among others.
Customize Delay
Sneaker sites are becoming smart in their fight against botting, and the introduction of raffle in the first place can be attributed to them trying to discourage botting. However, to go further, they use the speed of entry and checkout to detect if traffic is bot originating or not. Because of this, Codeyellow introduced a custom delay setting that will make you appear more human.
Beginner Friendly
Codeyellow is very easy to use even for those that have not used any sneaker bot before. This is because of the fact that the bot has been designed to be simple and intuitive. The bot is also clean and friendly to the eye.
Pricing
Codeyellow requires you to pay a $30 for the first month of using the bot after which, your license is renewable for $15 monthly.
Join the Codeyellow Community
Codeyellow is the bot of choice if raffle draw is the model the site you are interested in use. To Pay for their license, go to the Codeyellow website and pay for it.