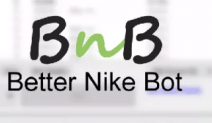 Better Nike Bot (BNB) has proven to be one of the best sneaker copping bot for Nike sites and Nike SNKRS. It is functional, easy to use, and pocket-friendly.
What's Better Nike Bot?
If you are conversant with sneaker copping, you will discover that Nike sites are arguably the bot developers' nightmare. That's why there are few Nike bots out there. Better Nike Bot is one of those sneaker bots specialized in copping sneakers from Nike sites and the Nike SNKRS. this bot is quite popular among Nike sneakerheads, and some even see it as the best.

The Better Nike Bot support the copping of sneakers from all Nike sites in all regions except Nike China (CN). It comes packed with a lot of features that are parallel only by few other bots in the industry. With this bot, securing those limited edition high on-demand sneakers is becomes not only possible but simple. If you are a heavy user, I will advise you go for the BNB Ultimate option– it cost more compared to this, though.
How Does It Work?
Operating Better Nike Bot and getting it to work is very simple. However, there are series of steps you are required to take before it works perfectly the way it should. The steps are discussed below.
Launch the bot and enter your account details for authentication. After you have done that, you will be allowed access to the dashboard.
Go to tools and click on Snkrs Calendar – it is a built-in calendar for Nike sneaker release. The tool with open, and you will see the calendar and the sneakers with their details. You can search for a particular sneaker by its name or style code.
Double-clicking on any of them will open an interface where you are expected to enter the task details for it. You are to enter the email, password, and size. The style code is populated automatically. After submitted the form, that task will be created and visible under the Account Area.
Usually, you will need to add multiple accounts so you can cope more than a pair. For each pair, you need an account. Just click on the first one you created and then click clone and then create the number you want.
After adding the accounts, you can now click the Start button. The bot will standby, waiting for the shoe to be dropped before adding it to cart. Before the steps above, make sure you add your checkout profile as Better Nike Bot won't automatically pull that out from your subscription detail.
I will advise you to watch the video above to understand better how the bot should be used.
Better Nike Bot Features
BNB comes with some unparalleled features that make them stand out among many other bots in the industry. The features are many, and as such, we are going to be looking at few of them.
Nike Account Creator
If you are probably thinking of paying for BNB just because you need to buy a pair, then you need to have a rethink. Most BNB users are sneaker resellers, and it won't hurt if you join the bandwagon. You will need a Nike account per pair. Because of this, you will need to create more accounts. Better Nike Bot comes with a Nike Account Creator that permits you to create 5 accounts per day.
Unlimited Account Management
While you are limited to creating 5 accounts using their account creator, the number of accounts you can add for copping sneakers is unlimited. This then means that you can cop unlimited number of Nike sneakers if you have what it takes to do that. Interestingly, this bot is multithreaded. This means that you can run tasks concurrently without facing any challenge if your PC or server has the power.
New Product Keyword Monitor
Aside from the announced hyped releases, Nike is also known for occasional surprise drops as well. For this type of releases, you won't see them in their calendar or any other sneaker release calendar. BNB has the capability to monitor these sites and notify you of such releases.
Email and Text Notification
With BNB, you are never caught unaware. They provide notification through the use of Emails and text messages. This means that you will get a notification when it is time for drops and when your bot successfully checkout.
Regular Updates
In terms of updates, the team behind Better Nike Bot is really doing a great job here. They are also on the lookout for bugs to get them nipped in the bud. If there is a need for a patch or there is a change to the Nike architecture, they are quick to change their app to match the changes made.
Pricing
The Better Nike Bot is meant for only Nike sneaker drops. Because of this, it is cheap compared to AIO Bots. There is a one-time payment of $200 for this bot. if you are a heavy user, you should go for the BNB ultimate, which costs $600. If you buy this bot, you are given free updates for 6 -months before you start paying for updates.
Buy Better Nike Bot Today!
The team behind BNB is an experienced one, and with them, copping limited edition sneakers should be as simple as possible. What are you waiting for? Join the #TeamBNB today.