Balkobot is one of the most sorts after sneaker bots in the market. Because of its popularity, it is very much expensive, and the price even goes up higher if you are buying from a reseller.
What is Balkobot?
If you have tried copping limited-edition sneakers before, you will realize how you will need to be lucky to get a pair and let face; you cannot rely on share luck all the time. You need a tested and trusted solution that will always get you those premium sneakers, and that is why you need Balkobot. Balkobot is a sneaker bot meant for copping sneakers from Shopify stores as well as Adidas sites. The bot has proven to be a beast when it comes to devouring Shopify restocks and does quite well for Adidas Splash releases.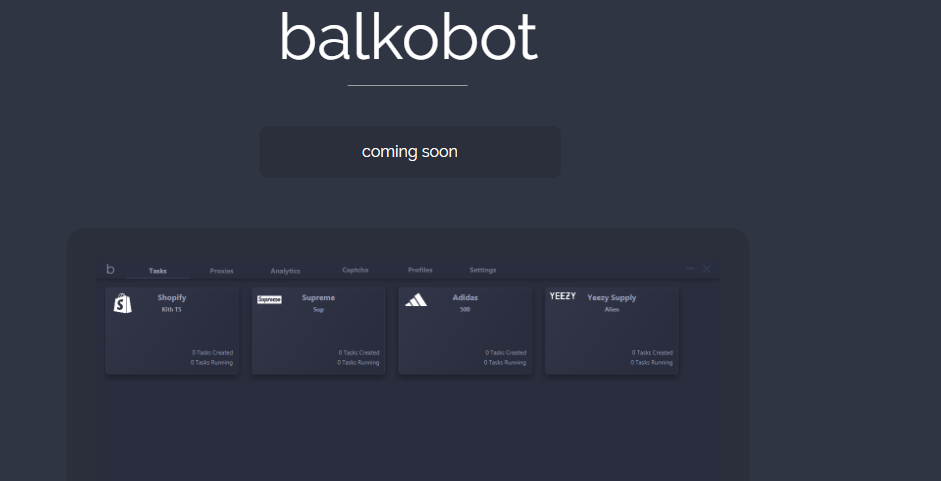 The bot has been rated as one of the best sneaker bots in the market. The level of success enjoyed by this bot is quite high. Because of this, Balkobot is expensive. However, because of its effectiveness, sneakerheads aren't bothered but are even ready to buy the bot at resale prices of up to £1000. When it comes to its User Interface, Balkobot is complicated and in fact, seen as not being beginner-friendly.
How Does It Work?
Balkobot is a very complicated piece of software. However, its working principle is very simple. It consumes the web APIs on the sites it supports and replicates the steps you will take when making purchases on those sites. However, the speed at which it carries out the process of adding items to cart and checking them out is very fast, thereby increasing your chances of success. The bot can also get more copped at a time. While it gets all these done, it tries to evade detection to avoid getting its access to the sites denied.to learn how to make use of this bot, watch the video featured below.
Balkobot Features
When it comes to features, Balkobot bot is one of the bots that can be termed as king. It comes packed with a lot of features that it succeeds in the copping game. Let take a look at some of these features below.
Regular Updates
The development team of Balkobot has really done a good job of keeping the bot in a state that it is not only functional but also keeps its record as one of the few untamable bots in the market.
Cross-Platform Support
Balkobot is one of the few bots in the market that are truly cross-platform. You can run the Balkobot sneaker bot on both Windows and Mac without the need to install any additional software.
Supports Many Sites
 Is an All in One (AIO) bot. what this means is that it supports many sites. the bot currently supports stores built on Shopify and Adidas. It is working on adding support for Footsites.
Pricing
Balkobot's pricing is on the high side. To make matters worse, getting a license for it is very difficult, and as such, many users of the bot resort to buying the license from resellers, which makes it even more expensive.
Join the Balkobot Community
To learn more about Balkobot, including how to get your hand on their license, visit their website and follow them on Twitter and you can learn their review from FreePCtech.