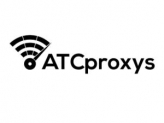 Are you tired of using proxies that just won't help you cop because they keep getting detected, or their speed is not up to what's required for a successful sneaker copping experience? It is time to jump to ATC Proxies.
ATC Proxies – an Overview
When your proxies aren't just working, the best action to take is to dump them and move over to the ones that work. ATC Proxies are some of the proxies that work – perfectly for sneaker copping. They are compatible with all sneaker bots and have helped a good number of people succeed because of their speed, high performance, and reliability. Their proxies are priced based on consumable bandwidth. With this type of pricing model, even before the expiry date of your proxies, they will seize to work after you've consumed the bandwidth allocated to you.


Their pricing is a little above average of residential proxies – yes, their proxies are residential. They have specific sneaker site proxy like Nike Proxies. You can also buy cheap USA mobile verified Nike Accounts. To learn more about ATC Proxies, visit the ATC website.