Apreme IO is one of the cross-platform Supreme sneaker bots in the market. The bot is reliable, functional, and has helped many sneakerheads secure a good number of pairs.
What is Apreme OI?
Apreme IO bot is a sneaker copping bot. The bot has been beneficial to many sneakerheads that have an interest in copping limited-edition sneakers from Supreme sites. This bot supports both the United States and the EU Region. In terms of popularity, Apreme IO can be seen as a small contender, but when it comes to functionality, it is equal to the task and can even compete with some of the popular Supreme bots in the market.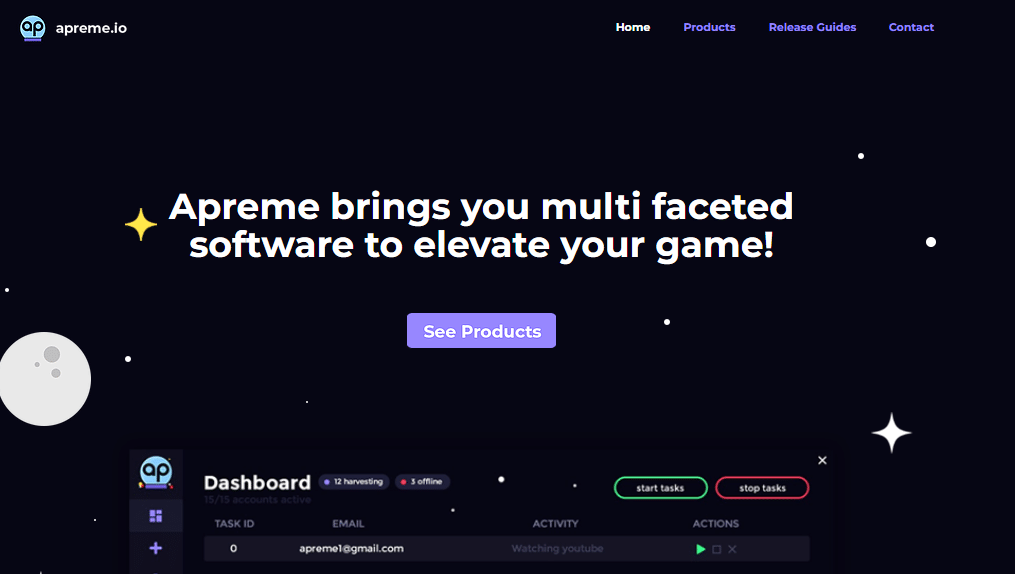 However, even though it is quite functional, it does not have a slot in the top 3 in the market. Apreme IO is cross-platform and can be used on both Windows and Mac. One thing I find discouraging about Apreme IO is their website – it lacks content. This is not peculiar to only Apreme IO though, many other providers including the popular Kodai does not have much content. However, as an unpopular bot, they should do better, so intending customers know what to expect.
How Does It Work?
Apreme IO is nothing more than an automation bot. It automates the process of purchasing limited-edition high on-demand sneakers from Supreme sites. How does this is simple – it consume the APIs of these sites and sends requests to them, mimicking browsers. Even though Supreme sites are always out to fish out and ban accounts that are botted, Apreme IO has gotten its own twist to avoid getting detected. The bot has a backend that does all these. To get the backend to work, you have to control it, and the User Interface is that part of the bot you are to use for the control.
Apreme IO Features
Apreme is a powerful bot that has got a lot of features. Some of the interesting ones are discussed below.
Cross-Platform
Apreme IO can be used on a variety of operating systems. It works perfectly on Windows, Mac, and iOS. However, there is a deal-breaker here – you have to pay for an iOS version separately. If only the developers of this bot can get their license to work cross-platform, then it would have been better.
Multitask Support
Apreme IO has support for multitasking because of its multithread capability. This makes it a bot not for only sneakerheads but also resellers as well. This is because, for resellers, they need to cop more pairs to sell for profit. If they go for a bot that does not have multitasking support, they won't cop as much as they want.
Captcha Solver
Apreme IO has a captcha solver that makes it easy for users of the bot to solve captchas. The captchas solver as a separate tool, but it is quite functional if you can spend the extra dollars.
Pricing
Apreme IO is not an expensive option. With $34.99, you can get your hand on this bot. it is, however, renewable.
Join the Apreme IO Community
If you are interested in making use of the Apreme IO, then visit its website today and make an order.