AIOmoji is an All in one bot developed by Kickmoji. This bot has got extensive coverage as far as site support is concerned. It is cross-platform and sold as a monthly subscription-based tool. With this bot, you will not require a server for a performance boost.
What is AIOmoji?
Nowadays, without using a sneaker copping bot, your chances of purchasing limited-edition high on-demand sneakers are slim. This is because, in most cases, it is a first come first serve system with some twist. If you must get hold of those limited-edition wears, you must use a sneaker bot, which is nothing but a piece of computer software that automates the process of purchasing sneakers. AIOmoji is one of those bots that can help you out with this.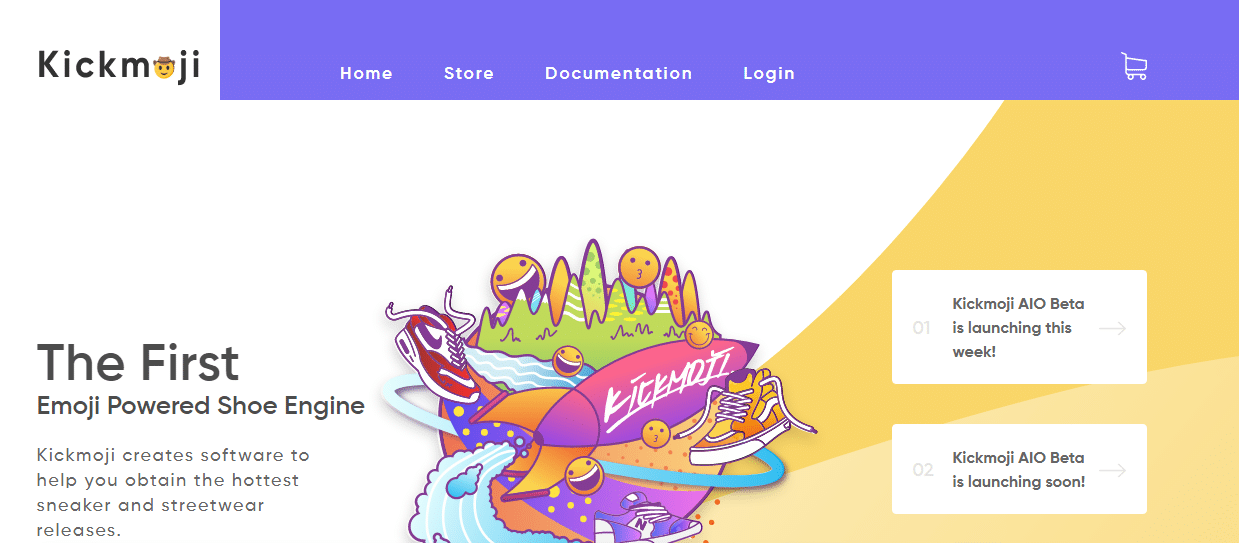 The bot works very fast and smart and comes with some features that make copping easier. This bot is an AIO bot that comes as a web-based tool. This then means that you do not need to install any software to use it. This makes the bot a flexible option.
How Does It Work?
The working mechanism of AIOmoji is not different from any other bot at its basic level. Sneaker bots generally replicate the steps you'll take when making a purchase from sneaker release sites. However, in addition to mimicking your behavior, AIOmoji explores some weaknesses of these sites to increase its speed of checkout.
For a user, you do not need to concern yourself with this, what you should be concerned about is how to get it to cop for you so you can recoup your investment and make a profit. Watch the video below to learn how to use this bot.
AIOmoji Bot Features
The AIOmoji sneaker bot comes with a lot of powerful features even though it looks simple. These features are what have kept it loyal customers, all this while. Some of them are discussed in this section of the article.
Web-based Bot
The unique feature of AIOmoji bot is the platform it was built for – it is built for the web. This makes it cross-platform as you can access it from any Internet-enabled device ranging from desktop computers to tablets, down to mobile. It is not operating system dependent. One other advantage of being web-based is that you do not have to worry about using a server because it is already on a server.
Supports Many Sites
AIOmoji provides supports for over 110 sites ranging from Shopify-based sites, Footsites, and Supreme sites. This will save you money in the long run because instead of paying for all these sites, you end up paying for one, thereby reducing cost.
Optimized
AIOmoji was not built and pushed hurriedly into the market. It was built for efficiency and optimized for speed as well as optimized to avoid consuming much of your device resource.
Multitasking Support
This bot is very fast. One of the reasons it is fast is because of its multithreaded capabilities. With this feature, you can create multiple tasks, and they will all run at one – concurrently.
Pricing
AIOmoji strives on the monthly subscription-based model. For a month, Kickmoji will give you access to this bot for $39.99 a month. You'll agree with me that what you stand to gain is worth the price.
Buy this Bot Now
With AIOmoji, you can avoid buying sneakers at resale prices by copping directly from sneaker release sites at retail prices. To buy this bot, visit Kickmoji website and purchase AIOmoji bot.